A Small Town Reveals America's Digital Divide
Equality has yet to reach the Net
Marcia Stepanek
When I first encounter the Reverend Jimmy Lee Price, he is standing on a grassy hilltop outside the Fairview Community Church in Prices Fork, Va., on the edge of rural Appalachia.
Prices have presided over this stretch of the Blue Ridge Mountains for 12 generations and have worshiped here since the 1920s. The church draws folks, black and white together, from old coal-mining towns as far away as Gap Mills, New Castle, Roaring Run, and Sinking Creek. "This is good land, quiet, the place to resort to if things get wicked," says Price, 59, his faded blue eyes and blond hair typical of the Price family members tied to these parts. "We're at the end of the road out here," Price says. "You can't get much further than this."
Every Sunday morning, the six-foot-two, 270-pound Price uses his interdenominational Christian pulpit to inveigh against racial prejudice and the evils of class conflict and materialism. "In the 1920s, '30s, and '40s, different races and classes were thrown together by common need," says Price, the son of a coal miner and the only one of six brothers to get a high school education. "We all worked together, different types of folks, and we always went to church together. We made a little pocket of love out here in Prices Fork," he says.
But the Internet has begun to strain those accommodations, Price fears, creating new divisions that seem to make all the other gaps grow wider. It all started in 1993, when the Internet first came to neighboring, and relatively prosperous, Blacksburg. Virginia Polytechnic Institute & State University sponsored an ambitious project to wire up the area, creating the Blacksburg Electronic Village (BEV). Price hoped then that the effort might help to bring diverse town and country folk together in ways their physical proximity never had. But some seven years later, that dream has yet to materialize--most folks outside Blacksburg are still waiting for a meaningful connection. Says Price: "We've been feeling left behind."
Blacksburg and Prices Fork, though both in the same county, might as well be in different time zones. They offer a glimpse of a world where the Internet is supposed to be a force for equal opportunity. Instead, Blacksburg reinforces fears that society faces a digital divide of enormous breadth (chart, page 191). Blacksburg is the most wired town in the nation. Over the span of only five years, more than 85% of its 36,000 residents, including 24,000 students at Virginia Tech, have gone online--far above the 32.7% national average. By contrast, in the region surrounding Blacksburg, only some 14% are connected to the Net. In fact, only an estimated 20% even have access to a computer, mostly through schools just starting to install them. The African American residents of low-income Christiansburg, on the other side of Montgomery County, lag even further behind.
I've come to this region to see the effects of this divide and how it might be bridged--not just in Montgomery County, but around the nation. It's an important issue, what with Congress earmarking money for wiring up schools and libraries and urban school districts struggling to keep up with techno-rich suburban schools.
Blacksburg, some 15 miles east of Prices Fork, is on the milk-and-honey side of the digital divide. Main Street looks about like what you'd expect of a bustling Southern college town: a broad boulevard with a Mexican restaurant, a Baptist church, an ersatz British pub, and two neighboring barber shops. But there's a parallel electronic community, invisible unless you're one of the wired.
In schools, stores, houses, and Ethernet-equipped apartment complexes, students, shopowners, businessmen, and professors are using BEV's high-speed Net connections to surf off the www.bev.net home page. They are checking out new releases at the Moovies video store, posting apartment-for-rent notices on the bburg.forsale page, learning about the $2 back-to-campus "fatty mug" beer specials at Hokie House tavern, studying which antibiotics can cause pseudomembrane colitis via Dr. Hendrick's searchable online database, getting a peek at the new necktie collection on the Blacksburg Country Club's home page, and--if they're a member of Virginia Tech's Ugly Old Men tennis team of retired professionals--signing up for the next tournament.
Chris Cornelius, a graduate student in Virginia Tech's chemistry department, and his wife, Theresa, are typical BEV members. They just saved $500 on washing-machine repairs and $600 on rental trucks by price-shopping online for services--all thanks to a BEV.net connection and its $8.90-per-month unlimited access fee, a deal not available to folks outside the university.
Then there's Lori Atwater, a 39-year-old single mom. BEV has changed her life. A city meter maid for 10 years, Atwater was making $6 an hour until she used her son's computer and cheap BEV.net connections in 1996 to start teaching herself how to design Web pages for a living. Last year, after designing most of the city government's Web sites in her spare time, Atwater quit her job and became president of Lori Atwater Enterprises, a new Web-page design company she runs from her house--at triple her previous salary. "I do now what I love," she says. She giggles, and I ask why. She tells me it's because she suddenly "feels like a TV evangelist" whose job it is to preach the gospel of the Net. "It's so odd to be doing something you love," Atwater explains. "To get paid to do what you love is a privilege."
Over coffee at Gillie's on College Avenue in Blacksburg, known for its Tofu Tortillas, Robert Heterick, the founder of the Blacksburg Electronic Village, fills me in on some history. Bearded and clad in khakis and loafers, Heterick still looks like the engineering professor he was when he envisioned BEV back in the late 1980s as a way to boost Virginia Tech's standing on the academic roster. The school wanted to find a way to get the city, the state, and Bell Atlantic to help pay for the installation of high-speed fiber-optic cable, which the campus would need to grow and attract top engineering students and faculty in the years ahead. "We thought that if we could provide access to everyone in the county, cheaply, then everyone would get wired," he says. "We were naive."
While the Net can bridge geography, he says, it hasn't done so well bridging the divisions of race and class. In Blacksburg, mostly white and mostly college educated, "the biggest surprise to me was how local the BEV has become," says Heterick. "Rather than use it to go beyond the immediate community and help teach folks outside to get onto the BEV, most people have used it to build a new one right here."
BEV Director Andrew Cohill acknowledges a shortage of outreach. Early efforts by BEV to "proselytize" on the merits of the technology and diffuse it to communities outside Blacksburg weren't frequent or successful. People in Blacksburg "had the education to be curious about it all and had heard of the Internet, even in 1993," Cohill recalls. But folks outside the town were in the dark, and many still are. "We could pick any county in Southwest Virginia and dump $50,000 of equipment on them and say, boom--here's an electronic village, but unless people out there have an understanding of what this technology is and why it might be important to them, the stuff is not going to make a bit of difference," Cohill says. And Virginia Tech, he says, doesn't have the budget or the charter to train everyone in the region.
Outside Blacksburg, though, people need that support. That afternoon, I drive out to Christiansburg, a working-class town on the edge of Montgomery County. There, nearly one-third of adults have no high school diploma and only 17% have college degrees--versus 61% in Blacksburg. Penny Franklin, a 41-year-old single mom, forklift operator, and president of the local branch of the NAACP, worries that her African American community won't have the skills to move forward in the Internet economy. She meets me at the local community center on High Street. Inside, in a large room fitted with folding chairs, an old upright piano, and photographs of Booker T. Washington, the Reverend Martin Luther King Jr., and Frederick Douglass, Franklin compares Blacksburg's Electronic Village to what she imagines an Alpine village to be: "All nestled in the middle of steep hills, their own little community, and when somebody strange comes in looking for help, everybody runs inside and looks out the window while they're there instead of opening the doors." Franklin recently decided to run for a spot on the school board after her son and other minority children were subjected to race-baiting at the local high school. But another big worry is the lack of tech training and community outreach from the Blacksburg Electronic Village.
There was a time, at the beginning of BEV, she says, that people here hoped that Blacksburg's high-speed connections, hardware, and training could help their children become familiar with the Web. But in 1996, BEV sold the bulk of its Internet service to a private company and stopped offering training and its $8.90-per-month, unlimited access to folks outside the university. The regular fees of $32.50 are pretty steep for the people in Christiansburg. "We felt kicked out of the village," she says.
Getting back in is an uphill slog. Thanks to a recent community grant organized by the Christiansburg-based Voluntary Action Center, a group of community activists, the NAACP offices got two computers last year. But there was no money for training, and the equipment just sits upstairs neglected. Part of the problem, Franklin admits, is a lack of interest: "Many folks here still don't see why they should take the time to learn it, and most folks here don't know enough to teach them." The lesson: Making equipment and Net connections available isn't enough. The Internet haves must find a way to introduce folks to the technology and then to make access meaningful to those without. It's the difference between giving people a book and teaching them to read.
Over on Walnut Creek Road, just outside Prices Fork, Cathy Wall is also worried that her daughter, Kadie, is falling behind. Prices Fork Elementary School has six computers in the library, but computer training is not yet part of the curriculum and Wall worries that children there won't be prepared to compete for jobs with students from more wired schools. "Already, we hear that families in Blacksburg are helping their children do homework at home, after school, using the Internet," she says. "We don't know the Internet and don't have a computer at home because we can't afford it." The Walls had to choose between a computer and getting Kadie braces. The braces won this year.
John Price over in Sinking Creek vows he won't be left behind. The first time I meet Price, it's on the porch of the Sinking Creek General Store, a gas stop along Highway 42 in the heart of cattle-farming Appalachia. He's wearing overalls, soiled at the knees, and workboots still caked with fresh mud and cow dung. Like the preacher out in Prices Fork, he's another Price tied to the clan that founded the region.
But this Price has crossed the divide. Unlike any of the other Prices he knows, John joined the U.S. Marines, saw the world, and fought in the Persian Gulf War. Now he's the first one around for miles with a computer at home and an Internet connection--a purchase he made as soon as he could afford one two years ago. He realizes his engagement with this technology has been, and will continue to be, no easy battle: BEV.net's high-speed connections don't reach him, his aging equipment is memory-short and slow, and his Net connections, from a rural provider nearby, aren't always reliable.
Price frequently gets frustrated at the second-class connectivity he has as a result of where he lives, the family's income, and his lack of computer skills. "I'm so often tempted to say forget it and turn it off," Price says. But he's determined not to let his struggles hurt his children, 8-year-old Zak and 3-year-old Carly. "I remember my grandmother kept resisting and resisting having a mechanical washing machine because she didn't believe in them," Price says. "I don't want my children to have the same mind-set about technology."
I accept his invitation to return to the house the next evening, my last in these parts, to meet his wife, Dena, his high school sweetheart. When I drive up the dirt road to the farm, I find John feeding a wood-burning stove that he has rigged up out back to heat water for the house and the children's baths. Back in the barn, we watch Zak feed one of his calves, and after I make a feeble attempt at it myself, Price invites me into the house to show me his computer and collection of Web bookmarks, which include an array of anti-Saddam Hussein sites, various tractor-equipment catalogs, and the home page for the U.S. Marines.
Price's computer is a family affair. One of Zak's favorite sites is eBay, because his mom bought him a Mario book bag there recently. "The computer was the big purchase two years ago," Price says. "Last year, it was a new floor and countertop for the kitchen." Next year, he says, it will be storm windows. Maybe the year after it will be a newer computer, but he doubts it.
For the next few hours, Price and I share what we know about the Net, trading favorite Web sites. I give him tips on how to short-cut some of his Web searches, and show him some sites that Zak and Dena might find interesting. We get to talking about how the Web can fit into life on the farm--and in Manhattan. We talk about the Net's promise, and how remote it still seems here. "Folks don't even know they're disconnected," he says, "and they mistrust people who are."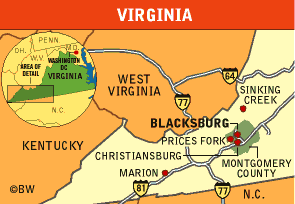 By the time the conversation winds down, Dena has gotten up to prepare supper and the kids have been put to bed. They invite me to stay for dinner, but it is late, and I get up to leave. "You don't seem like a Yankee," Price says. After Price and I exchange e-mail addresses and vow to stay connected, I drive off under a full Virginia moon, heeding his warning to watch out for deer in the hilly road that will take me back, a final time, to Blacksburg, then on to Roanoke and the flight to Manhattan.
In talking both to the members of BEV and those looking in from the outside, it's clear that plunking a bunch of computers and modems in a community won't solve the problem. Training, computer literacy, and community outreach are also necessary if towns like Prices Fork are to be brought into the Internet Age. And perhaps most of all, the outsiders must be given reasons why the Internet is relevant to their lives and work.
Before it's here, it's on the Bloomberg Terminal.
LEARN MORE