No matter how you slice it, say some savvy pros, ZDNet (ZDZ) is bound to blossom--once parent Ziff-Davis strikes a deal for this online provider of technology news. Ziff-Davis has hired Morgan Stanley Dean Witter to explore ways of boosting its stock, including selling all or part of the company. Ziff-Davis, which publishes such magazines as PC Week, PC Computing, and PC Magazine, spun off ZDNet in March to track its rapidly growing Internet business, but still owns 83% of ZDNet.
ZDNet was a hot IPO when it went public in March, soaring from 19 to 55 by early April. It has since dropped to 14, hit by the chill winds that have swept Net stocks.
The decline shows how undervalued it has become, says Peter Hadden of Putnam Investments, which has accumulated nearly 5% of the stock. Several parties have expressed interest in Ziff-Davis and its businesses, although the company says no "active negotiations" are going on.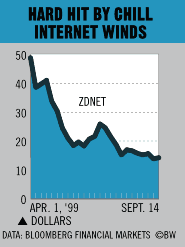 But ZDNet could end up being acquired separately by a larger tech or Internet company, says Hadden. He figures it is worth 45 a share, based on rival CNET, whose market cap is $3 billion. He notes that ZDNet and CNET are at parity in Net traffic and revenues. He expects that Tokyo-based Softbank, which owns 70% of Ziff-Davis, will retain a stake in ZDNet.
Michael Parekh of Goldman Sachs argues that, given ZDNet's "extensive library of proprietary content and strong ad relationships," ZDNet shouldn't trade at such a discount to CNET. Jamie Kiggen of Donaldson Lufkin & Jenrette has a 12-month target of 70 a share for ZDNet.
CEO Daniel Rosensweig wouldn't say whether he had offers for ZDNet. Sources says ZDNet is on the verge of signing a major alliance to launch a co-branded Web site.
Before it's here, it's on the Bloomberg Terminal.
LEARN MORE