U.S.: Could That Be An Inflation Cloud?
Hot demand and global recovery may bring price pressures next year
By
Pretend you're a policymaker at the Federal Reserve, and your job is to worry about inflation next year. No-brainer, you think. Inflation has been all but dead for so long that trying to whip up any worries about it seems pointless. But think again. The inflation outlook is shifting, subtly but undeniably.
The biggest changes come from the reversal of the global factors that have helped to hold inflation down over the past two years. Fed policymakers have alluded to temporary international conditions--falling oil prices, the strong dollar, and cheaper imports--as primary restraints on U.S. inflation. Those beneficial factors are ending their runs now that prospects in Europe, Japan, and the rest of Asia are improving.
Already, stronger foreign demand is lifting commodity and supply prices. Firmer exports have also boosted U.S. manufacturing output, which had been the one area of the economy that had slowed last year. Yet at the same time, vibrant July and August retail sales data show that consumer-led domestic demand is not cooling off (chart). Until it does, the labor market--the Fed's main concern--will only continue to tighten.
In addition, because foreign investments are starting to look more attractive relative to U.S. investments, the dollar has weakened somewhat, especially vs. the yen. As a result, import prices have stopped falling. And further downward pressure on the dollar seems likely, since currency traders may be taking a closer look at the U.S. current account deficit--a summary of U.S. international financial obligations--which hit a record high in the second quarter.
ALL THIS IS NOT TO CONCLUDE that the Fed will move again at its Oct. 5 policy meeting. But these shifts in the inflation landscape will not be going away anytime soon. If these small seeds of price pressures take root, policymakers may have to hike interest rates again, either in late 1999 or early 2000. In fact, they may feel that they have no choice if domestic demand doesn't slow soon.
In the third quarter, though, there are few signs of a slowdown, especially by consumers. Retail sales in August jumped a larger-than-expected 1.2% from July, on top of an upwardly revised 1% rise in July sales. Even after accounting for higher prices, including the spike at the gas pump, real retail sales are up a blistering 10.1% from a year ago. That's the fastest yearly pace since the U.S. economy was coming out of the disastrous 1981-82 recession.
Purchases of motor vehicles led the August gain, but even excluding autos, retail sales rose a strong 0.7%. Stores selling building materials, apparel, and furniture all posted solid gains. The surprising advance in store receipts means that real consumer spending is on track to grow at an annual rate of 4% in the third quarter, after a sizzling 4.6% gain in the second.
THE WORRY FOR THE FED is that excess demand, if left unchecked, will give businesses the opportunity to raise prices soon. Already, shortages of a few materials are leading to some price pressures at the production level.
True, the top-line inflation data show no sign of price worries. Producer prices of finished goods rose 0.5% in August, reflecting the 3.7% jump in energy prices. But excluding food and energy, core prices fell 0.1%. And consumer prices in August rose a modest 0.3%, mainly because of a large 2.7% increase in energy costs. Core prices were up only 0.1%. Core consumer prices are rising at the slowest yearly pace in 33 years.
But further back in the production process, companies are facing higher costs. And it's not just oil, which soared to more than $24 per barrel in mid-September. Core prices of intermediate supplies, such as plastics, paper containers, and chemicals, are edging higher. In August, they were up at an annual rate of 2.9% from six months earlier (chart), the fastest in any such period in four years. And core commodities are up a surprising 10%. The price hikes reflect the competition among businesses for a limited amount of resources. For example, the surge of homebuilding has caused a 20.1% jump in gypsum prices.
When faced with higher input costs, producers must decide to swallow the price hikes and take a hit on the bottom line, or they must raise their prices. What the Fed knows is that when a business enjoys a strong market for its product, raising prices is a whole lot easier. That's why the recovery in foreign economies, which will lift the demand for U.S. exports, adds to the Fed's fears that the U.S. economy is overheating.
MORE IMPORTANTLY, the rebound in foreign economies spells the end of one of the chief restraints on U.S. inflation in this expansion: the strong dollar.
From early 1997 to August, 1998, the dollar soared 16.8% on a trade-weighted basis, with nonoil import prices falling 5.6%. Since then, though, the greenback has slipped 8.5%. Consequently, nonoil import prices, whose steep decline was greatly responsible for keeping a lid on goods inflation, have been flat since April. Import prices will likely rise if the dollar weakens further. And right now, that seems a good bet, as the global recovery begins to lure money away from dollar-based investments in the U.S.
The trouble is that the U.S. has become very dependent on foreign capital. The U.S. current account deficit--the tally of the trade deficit and other international financial obligations--soared to $80.7 billion in the second quarter, up from $68.7 billion in the first. quarter. That financing requirement, which is essentially the shortfall between U.S. saving and U.S. investment, hit a record 3.6% of gross domestic product in the second quarter, surpassing the previous peak in 1986 (chart).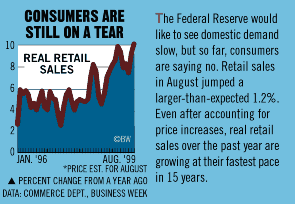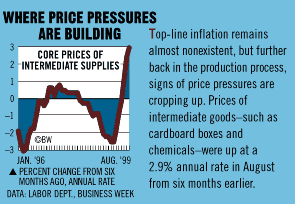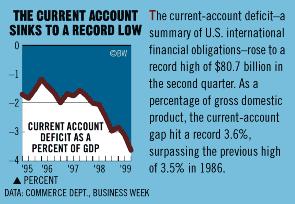 That's getting close to the point where the ability of a debtor nation to service its obligations is often called into question. As long as prospects for U.S. growth and inflation remain bright, the U.S. may be the only country with the financial might to carry such a large current account gap, especially given the boost to savings from the federal surplus. Still, investors are beginning to believe that overseas investments are becoming more secure and with better potential payoffs. That monetary enticement will cause some to sell off their U.S. investments, which will put further downward pressure on the dollar.
The consideration of the dollar and import prices points to a key way in which Fed policy has changed in this expansion. For years, policymakers preferred to ignore--or be indifferent to--international turns of events. No more. The inflation benefits from weak global economies are dissipating. And that change goes a long way in explaining why the Fed will be on high alert even while the top-line inflation numbers remain nonthreatening.
Before it's here, it's on the Bloomberg Terminal.
LEARN MORE