Skechers Has To Watch Its Step
Parallels with L.A. Gear make Wall Street wary
Kathleen Morris
A debate is raging in the daily design meeting of hip footwear company Skechers USA Inc. To launch its latest line of girls' running shoes, with a clean look aimed at a wide audience, designers are arguing for a model using a simple white-leather top. But Chairman and CEO Robert Y. Greenberg, the man who gave America L.A. Gear sneakers and helped popularize clunky, big-soled shoes, has locked on to a jazzier version made of bright blue mesh covered by shiny plastic. "There is no contest," insists the wiry, white-haired Greenberg. Glancing at the white shoe in a display room at his Manhattan Beach (Calif.) headquarters, he says: "This is pushing a car up a hill with a piece of rope. Girls don't need us for this." He holds up the electric-blue shoe. "They need us for this. This is pretty."
Picking cool shoes is Greenberg's life. From earlier days, when he screwed roller skates onto running sneakers and sold them at Venice Beach, Greenberg could always create and hawk a hot product. The same, however, can't be said for his ability to run a company. His biggest empire, L.A. Gear Inc., grew into the third-largest sneaker company almost overnight in the 1980s. Then it flamed out in the early 1990s as the brand became passe and the company, faced with mountains of unsold shoes and questions about its accounting, had to restate its results. Now, Greenberg, 59, is riding another rocket with Skechers. The similarity with the early years of L.A. Gear is breathtaking--and for many investors, scary.
STREET LINGO. Seven-year-old Skechers--its name is street lingo for a wildly energetic person who can't sit still--has more than tripled its sales in three years, to $372.7 million in 1998. That's largely thanks to Greenberg, who correctly foresaw what $9 billion Nike did not: that kids wanted rugged leather shoes and boots to go with fashionable cargo pants and khakis, not just white athletic shoes. This year should bring another 29% jump, to $480.3 million, estimates Harry G. Katica, an analyst at Prudential Securities Inc. He expects 1999 operating income to soar to $51.6 million, up 52% from last year, and light-years from the $1.8 million it earned in 1995.
Propelled by a heavy dose of music-laced lifestyle ads on MTV, ESPN, and Nickelodeon, Skechers' chunky-soled sneakers, cleat-heeled sandals, and blunt-toed boots have become the toast of the Dawson's Creek crowd. The brand is "exceptionally strong for back-to-school right now," says Louis J. Lynn Jr., head footwear merchandiser at J.C. Penney Co., the second-biggest seller of shoes in the U.S. A survey by Teenage Research Unlimited Inc. found that 17% of 2,000 teens had bought a pair in the past year. Says Greenberg: "We are becoming immortalized in the minds of 3- to 25-year-olds."
Too bad the middle-aged denizens of Wall Street aren't as smitten. Skechers' initial public offering was postponed once, and underwriter Deutsche Banc Alex. Brown slashed the offering price by $3, to 11, and offered 4 million fewer shares. Skechers finally went public on June 9, selling 7 million shares. The price fell steadily, to around 5 1/2 today. Investors value Skechers at less than seven times its expected '99 earnings, compared with 25 times for Nike and 14 times for Steven Madden Ltd., another shoemaker popular with teens.
The skepticism partly reflects anxieties about the fickleness of youth fashions. The wave that Skechers is riding could end just as abruptly as it started. But more than anything, Greenberg is being punished for his past. Many Skechers executives come from the old L.A. Gear, including CFO David Weinberg and Greenberg's 36-year-old son Michael, who was L.A. Gear's national sales manager and is now Skechers' president. Altogether, five Greenberg offspring sport executive titles, which worries some. "I wouldn't go near any company run by Robert Greenberg," says a private investor who followed L.A. Gear as an analyst. The parallels between the companies, he says, are "frightening."
UNFAIR NOTORIETY. Greenberg accepts his notoriety, even though he thinks it is unfair. He blames many of L.A. Gear's troubles--and its reorganization last year under bankruptcy law--on the investment team he turned to in 1991, after sales and the stock price had started to tank. One executive involved in the investment transaction admitted that serious marketing miscues were made after Greenberg resigned in 1992. But he says the company was already in free fall. "Robert lost control of the company," says the executive, who asked not to be named. "We inherited a mess." Indeed, shortly before Greenberg left, the company had to restate quarterly financials for part of 1990 and '91. It acknowledged that some shipments were improperly recorded as sales, and that it had suffered losses for the period.
Today, Greenberg sees Skechers' climbing sales as his best chance for redemption. "It may take several quarters of results, but perception will turn," he says. And certainly no one should underestimate Greenberg. A former hairstylist, he got his start in the fashion business back in 1968, when he sold a chain of salons in Brookline, Mass., to launch a line of fashion wigs and then designer jeans. By 1979, Greenberg had moved to Los Angeles, where he opened up a skate stand at Venice Beach. A score came when he sold $3 million worth of E.T. shoelaces. Greenberg used the money to open a small clothing manufacturer called L.A. Gear. He imported 30,000 brightly colored sneakers from a factory in China, then latched on to the hot market for women's aerobic shoes, L.A. Gear's sales exploded from $70 million to $900 million in three years.
After he left L.A. Gear, Greenberg started a company to distribute Dr. Martens--the clunky British shoe whose maker, R. Griggs Group Ltd., recently sued Skechers, claiming it produced knockoffs. (The case is pending, and Greenberg has countersued, asserting that Griggs falsely claims to make its shoes in Britain.) Soon, Greenberg and his sons launched their own brands and began to focus on Skechers. "Robert has the ability to discover trends and get on board faster than anyone I have ever met," says Steven Nichols, CEO of K-Swiss Inc. in Westlake Village, Calif., another hot sneaker maker.
BIG BUCKS. But can he keep it going? While there is no hint of the accounting problems that plagued L.A. Gear, analysts saw a sign in Skechers' prospectus that it, too, might have troubles keeping the red-hot momentum going. The company's order backlog dropped 16% this spring from '98 levels. Declining backlogs are often a sign that manufacturer inventory is piling up at stores, says Faye Landes, an analyst with Thomas Weisel Partners, an investment bank in San Francisco. However, the company says store inventories are lean. J.C. Penney's Lynn concurs that popularity remains high; the head of footwear merchandising at another big chain agrees, crediting big-bucks marketing. With the company spending 10% of sales on ads and promotions, she says, "it gives them staying power."
Greenberg insists he's keeping inventories tight this time by updating orders from Asian suppliers each week. And he has put his creative people into overdrive to diversify the lineup. L.A. Gear, he says, was essentially a one-trick pony, with one white aerobic sneaker that it dressed up in a myriad of treatments. Skechers is offering 900 different styles this fall. "We aren't associated with any single category of footwear," Greenberg insists. "We're just cool."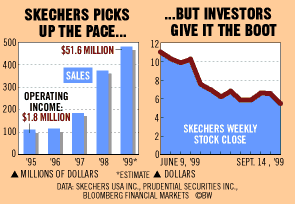 Of course, that puts a very hefty premium on staying ahead of the fashion hordes. Skechers' design team of twenty- and thirtysomethings travels constantly to keep tabs on the latest trends. Greenberg himself keeps his eye on the pavement. According to Michael Greenberg, his dad hasn't seen the last five minutes of a movie in years--he can't resist planting himself in front of the exit to get a glimpse of hundreds of pairs of shoes rushing by. So far, the legwork has paid off. But with Greenberg's track record, investors will have to see much more before they're convinced Skechers is on solid footing.
Before it's here, it's on the Bloomberg Terminal.
LEARN MORE