Novartis And J&J May Be After Chiron
by
The buzz is getting louder about Chiron (CHIR), whose stock has soared from 18 in mid-June to 34 7/8 now--a tad shy of the 52-week high of 35 49/64 reached on Sept. 13. "Some investors are finally starting to take notice of the upside potential at Chiron," says Jim McCamant, editor of the Medical Technology Stock Letter. Chiron's product pipeline is full, he says, and the earnings outlook is bright. One other factor: takeover talk.
Two major drugmakers are said to be pursuing biotech biggie Chiron: Novartis, which owns 46% of Chiron, and Johnson & Johnson, which owns 50% of a joint venture with Chiron on diagnostic tests for hepatitis and HIV.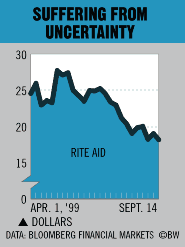 Steve Flax of Flax Investment Partners in Scottsdale, Ariz., believes that Novartis wants to acquire all of the company. Blocking Novartis' path is a standstill agreement that bars it from increasing its stake until Jan. 15, 2000. Flax says that Novartis wants to do it sooner, and the company is trying to persuade Chiron to revise the pact. However, Johnson & Johnson may be another obstacle.
Morton Cohen, chairman and CEO of Clarion Capital, thinks Johnson is bent on acquiring Chiron and that J&J may want to do a deal with Novartis to achieve its own goal. Novartis couldn't be reached for comment and Johnson & Johnson declined comment, as did Chiron.
McCamant says that Chiron's new nucleic-acid blood screening business is expected to boost revenues in 2000. He also says that sales from its Regranex drug, which is being marketed by Johnson & Johnson, should jump sharply. His target for the stock: 60.
Before it's here, it's on the Bloomberg Terminal.
LEARN MORE