No More False Alarms. Hmo Rates Are Really Rising
Higher costs and more mergers mean double-digit hikes
Stephanie Anderson Forest
For the past three years, the cries of "wolf" from economists could be heard every September. If health insurers could wrestle big hikes in annual premiums for managed-care plans from business, inflation would surely follow, they howled. But every time, corporate buyers stood firm and pared double-digit demands down to sheepish increases that barely outpace inflation.
This year, the wolf is winning. As they nail down contracts before the fall benefits-enrollment season, health-maintenance organizations are sealing deals for premium increases of as much as 15%, or six times the overall rate of inflation. "Employers are experiencing sticker shock," says Blaine J. Bos, a principal at William M. Mercer Inc., which negotiates with 400 HMOs for clients nationwide.
CONSOLIDATING WOES. Blame the hikes on rising medical costs, skyrocketing prescription-drug expenses, hefty HMO losses--and most assuredly, on consolidation, which has cut down the number of HMOs bidding for corporate business and created several behemoths that control the market. There's more to come: Mercer, for example, already has reports of rate hikes next year of as much as 9% to 12% for large companies, and 15% to 20% for small companies.
Small companies already feel the pain: Wanda Rohm, owner of Presto Printing Inc. in San Antonio, which has 17 employees, says if she stays with her current insurer, her group rate will jump 50%. That's pretty scary, says Rohm, who fears she may have to boost employee contributions, raise printing prices, or limit coverage if she can't find a better deal.
Until recently, HMOs had kept premiums low to gain market share and tried to offset the hit to revenues by squeezing their medical providers. But doctors and hospitals have been demanding increases in their reimbursements and defecting from HMOs if they don't get them. Consumers, employers, and government officials also want expanded coverage and increased provider choices.
After racking up hefty losses in 1997 and 1998--a combined total of $1.25 billion, according to Palm Beach Gardens (Fla.)-based insurance-rating firm Weiss Ratings Inc.--insurers are reversing course. "The industry has been underestimating how fast health-care costs would rise," says Norman C. Payson, chairman and chief executive of Norwalk (Conn.)-based Oxford Health Plans Inc., which is raising 2000 plan rates about 9%, the same as 1999. "Now, everyone's rates have to rise."
The magnitude of expected increases for next year, on top of hikes this year well above inflation, suggests that managed care has done much of what it can do to trim costs, some experts say. That means that consumers of health care will no longer be insulated from the rising costs of providing care. "This is a huge wake-up call for the business community," says Christopher J. Mathews, who heads the health-benefits practice for consultant Watson Wyatt Worldwide.
Indeed, many employers are already seeking a more active role overseeing their HMOs. In the meantime, they're scrambling to find ways to either absorb or avoid additional rate hikes. Some are boosting employee contributions and tinkering with benefits packages, such as raising prescription-drug copayments. Others are fighting back by switching insurers, forming coalitions that deal directly with health-care providers, and auditing HMOs. For example, Pacific Business Group on Health, a Los Angeles corporate purchasing alliance which recently agreed to an average 10% increase in HMO premiums for 2000, says it will conduct HMO audits to track the flow of money from health plans to physicians and hospitals.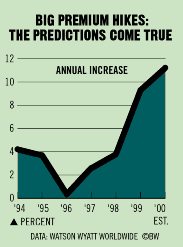 Until now, "companies have taken those increases and gone merrily on their way," says Rocky Mangiarano, director of human resources for Iselin (N.J.)-based specialty-chemical company Engelhard Corp., where HMO rates will rise 10% to 11% in 2000 on top of 7% to 8% increases in 1999.
But as the number of HMOs declines, it will be hard for companies to be too forceful in their negotiations. And, facing the tightest labor market in 25 years, it will also be tough to push costs onto employees. That leaves HMOs in the enviable position, at least for a while longer, of not only demanding--but getting--hefty price increases.
Before it's here, it's on the Bloomberg Terminal.
LEARN MORE