Julian Robertson: Tiger In A Tailspin
The pressure is on to stem a tide of hedge-fund losses
by
For Mark W. Yusko, chief investment officer of the University of North Carolina at Chapel Hill, Julian H. Robertson Jr. is more than just another portfolio manager--and not only because he is an alumnus and benefactor. Robertson's Tiger Management Corp. oversees $30 million of UNC's $800 million endowment, and for most of the past decade, Tiger has performed superbly. Robertson's six funds climbed 56% after fees in 1997 alone.
But since mid-1998, Robertson's Tiger funds have declined significantly, and even his most loyal investors are concerned. On Sept. 15, UNC's investment board reassessed its relationship with its favorite son. Tiger, Yusko says, is "really a firm under siege right now--and it's an awfully terrible situation to find yourself in." Yusko asserts--and Tiger acknowledges--that Robertson has had to sell holdings from his portfolios to meet redemptions. That has hurt Robertson's performance--thereby leading to more redemptions, and still more asset sales.
As Tiger's performance soured--falling 19% so far this year and 40% since its peak a year ago--the funds have been caught in a vicious circle of redemptions, asset sales, and poor performance. In an interview with BUSINESS WEEK, Tiger Chief Operating Officer Philip N. Duff confirmed that redemptions have totaled $3.5 billion since last December and that investor withdrawals have hurt the funds by forcing Tiger to trim its portfolios.
YEN BET. Duff maintains the worst is over, and he hotly disputes using a word like "siege" in referring to Tiger. Still, redemptions remain an open question that is more than just a concern to the handful of institutions and millionaires with their money in Tiger. Persistent rumors of troubles in the hedge fund community have roiled the market. Tiger remains vulnerable to potentially troublesome withdrawals unless Robertson can stem its losses--and soon.
For Tiger, the problems began a year ago. Robertson's funds had subpar years in the mid-1990s but enjoyed healthy returns in 1996 and 1997. The rebound continued through most of 1998. Through a combination of savvy stock picks and currency plays, Tiger was up 17% after fees through Sept. 30, 1998. At its peak in the summer of 1998, Tiger topped $22 billion in assets--briefly rising above the Quantum group of hedge fund rival George Soros.
But an ill-fated short position in the yen sent Tiger falling 18% in October, and it has yet to recover. By the end of 1998, its funds were down 4% for the year. Robertson swiftly shifted out of "macro" bets on currencies--and was pretty much out of the yen by early 1999. He was almost entirely in stocks most of this year, with an emphasis, Yusko and others note, on "value" stocks that haven't been favored by the market. The fund group's two largest holdings--U.S. Airways Group Inc. and Waste Management Inc.--have performed poorly this year, leading Robertson to announce in August that he was exploring "a variety of alternatives to enhance shareholder value" at U.S. Air.
So far this year, mainly because of less-than-propitious stock picks, Tiger is down by nearly one-fifth. (Soros' Quantum fund, by contrast, was up 12.4% in '98 and is down 4.7% so far this year.) Tiger's assets have shrunk to less than half what they were a year ago--$10.5 billion. Staff defections, long a problem at Tiger, have lately included some of Robertson's top aides. In recent months, the losses have included the director of equities, Andreas Halvorsen and, in recent days, the man in charge of "macro" investments, Chris W. Shumway. Duff maintains that even though 20 analysts have left this year, they have not been leaving at an abnormal rate and that 14 experienced analysts have replaced them.
"HOT MONEY." Duff is not so sanguine, however, about departures by investors. That began in December, 1998, he says, with the departure of "hot money" from short-term, largely overseas investors, and has continued ever since. Duff says that much of the money flowed from Robertson's offshore Jaguar fund, which has been Tiger's largest fund for several years and mirrors the performance of the five other Tiger funds.
With the exception of investors in two of Tiger's newer funds, investors can withdraw at the end of every quarter on one month's notice. And once performance began to lag, the cash outflow began. According to Duff, some 5% to 10% of Tiger's net assets have been withdrawn by investors each quarter over the past year, beginning in December, 1998. The initial withdrawals were particularly heavy. Some $2 billion was pulled out on Dec. 31, 1998, alone--with the remaining $1.5 billion coming out this year.
The damage to Tiger was a good deal worse than it appeared to be at the time. According to Yusko, who says that he has kept in close touch with Tiger officials over the past three months, Tiger has had to trim its most liquid positions, and the withdrawals have hurt the hedge fund's performance by reducing the amount of leverage Robertson can use--and by exposing Tiger to opportunistic trading by other participants in the market.
Duff confirms that Tiger's performance has "absolutely" been hurt by its need to cash in assets. He agrees that some traders have taken advantage of Tiger's need to shed assets. However, he denies that Tiger has shed only its more liquid assets, maintaining that the sales have been "across the board," with Tiger's portfolios reduced uniformly. He also denies that asset sales have been the reason for reduced use of leverage by Tiger.
Duff's comments contrast with some past assertions from Tiger describing the impact of redemptions. In June, after a broadcast report indicated that Robertson had sustained $3 billion in redemptions, a Tiger spokesman told BUSINESS WEEK and other media outlets that redemptions had totaled $1 billion and that Tiger had ample cash to meet redemptions (BW--June 28). Indeed, on June 11, Bloomberg news service quoted a Tiger spokesman as saying that Tiger "has enough cash on hand to pay out its redemptions fourfold." The amount of redemptions that month was indeed $1 billion, but Tiger was actually selling shares then to raise cash for the redemptions. Duff says that Tiger did not actually have "any cash sitting around," as told to BUSINESS WEEK and Bloomberg, but said that was a reference to the "borrowing capacity of our portfolio."
A policy of full disclosure, of course, is not always the best policy in the hedge fund world. Disclosure at the time of the full impact of redemptions might well have encouraged still more redemptions. Still, Tiger's treatment of the subject in recent months may not enhance its credibility in dealing with the subject in the future, if the redemptions continue. And they may well do so, if Robertson's performance continues to worsen. Antoine Bernheim, publisher of the U.S. Offshore Funds Directory and the new hedgefundnews.com database, says that as a rule of thumb, a fund whose performance declines 15% can expect to see its assets fall 25% to 30% because of redemptions.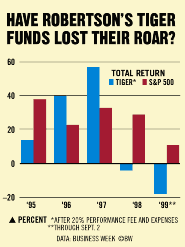 Duff declined to discuss the quantity of redemptions that Tiger will have to pay out in September--which were disclosed to the fund at the end of August. However, he maintains that hot money has stopped flowing out of the fund. Yusko believes that Tiger is sure to rebound. But he is not so sure redemptions are a thing of the past. "Clearly, there are a large number of institutions that have withdrawn or are contemplating withdrawal" from Tiger, says Yusko. UNC isn't one of them, however. The board voted unanimously on Sept. 15 to stick with Robertson--in expectation of a rebound.
Duff says that Tiger is thinking about requiring its new investors to keep their money in the Tiger funds longer--or, perhaps, requiring them to provide more notice before taking it out. That may put a stop to the "hot money" problem for a while. But if Tiger's losses continue, even Robertson's most loyal investors may start thinking the unthinkable--that heading for the exits may not be such a bad idea after all.
Before it's here, it's on the Bloomberg Terminal.
LEARN MORE