Commentary: Stock In A Stock Exchange? Think Twice
Mike Mcnamee
They ought to be the bluest of blue chips. The New York Stock Exchange is where the elite meet in Corporate America. And the Nasdaq, while lacking the Big Board's 207-year history, views itself as the financier of the New Economy. So if these two go ahead with tentative plans to sell their own stock to the public next year, investors will snatch up those shares as solid, stable long-term investments.
Solid? Stable? Don't count on it. Investors who want a piece of the markets' action are likely to get a ticket on a cyclical roller-coaster. They'll be betting that the 18% annual growth in trading volume of the past decade can roar on. And the NYSE and Nasdaq face steep demands for capital to rebuild technology, just as new rivals are squeezing their revenues.
No one should sell the major markets short. Their names are known around the world--a branding power they hope to take global. Despite the inroads of electronic markets, each still enjoys a commanding share of trading. As public companies, rather than member-owned markets, the two could raise capital to buy or build their own electronic trading systems. More important, the shift would remove the members' chokehold that slows decisions and stifles innovation.
But analysts trying to put a value on the exchanges are stymied. "It's not clear what business model they're offering, or even how they'll make money," says Hans Morris, a brokerage industry consultant at Salomon Smith Barney. Merrill Lynch is evaluating IPO prospects for the NYSE but can't settle on a valuation because it can't yet tell which model works best.
The markets' financials aren't much help. Neither reports as much detail as they require from companies whose shares they list. The numbers they do reveal aren't likely to hold up in a for-profit environment. Sales of market quotes and trading data, for example, account for 15% of the NYSE's revenues and a similar chunk of Nasdaq's. But increasingly, the markets have to share this "tape revenue" with electronic competitors.
Once the bourses report realistic earnings, what multiples should investors pay? Investment banks' and brokers' stocks have outperformed the Standard & Poor's 500-stock index (chart)--but sell for only 23.7 times earnings, versus the S&P's 32.6 p-e. The Australian Stock Exchange, which went public in October, 1998, has a p-e of 27. With those multiples, the NYSE's top value would be around $2.7 billion. That's based on 1998 net income of $101.3 million, which overstates earnings by including the NYSE's regulators. A more realistic estimate could be based on Nasdaq's net operating income of $36.3 million, which would yield a top market cap of $979 million. The bourses may get a higher p-e if they're treated as big data movers: Credit-card processor First Data sells at about 30 times trailing earnings.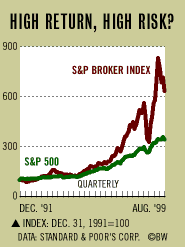 LOST LOVE? What may matter more to investors than initial pricing is how the stocks behave. Buyers should expect a bouncy ride: Although trading volume has risen straight up since 1988, brokers' shares exhibit many more stops and starts than the overall market. OM Gruppen, which owns the Stockholm Stock Exchange, says its shares are 46% more volatile than those of companies it lists. Nasdaq and the NYSE say they're barred from commenting on how their shares will behave.
And what if Americans' love affair with stocks cools? The NYSE and Nasdaq insist that new financial instruments and a growing "equity mentality" among middle-class Europeans and Asians will create new worlds to conquer. In the long run, that's true. But for now, investors might find that making a market in markets is a rough ride.