Australia: Tie Me Economy Down, Boys
by
Australia's growing economy is creating jobs, while scant inflation is keeping interest rates low, and past labor market reforms are helping boost productivity. The result: The economy has thrived despite its reliance on Asian markets. Moreover, the growth outlook for the coming year is bright --maybe too bright.
The economy will have to slow a notch from its 4%-plus pace to prevent the Reserve Bank of Australia from raising its policy rate, now 4.75%. The RBA is looking ahead to the tax-reform package that carries a stimulus equal to 1% of gross domestic product, which kicks in next July. Also in July, a broad 10% goods-and-services tax will boost inflation temporarily, but it could also provide a cover for extra price hikes and wage demands, if the economy is still running hot.
Some evidence of slower growth showed up in the smaller-than-expected 0.2% quarterly gain in second-quarter GDP, led by a steep drop in business investment. Businesses plan to invest 17% less in new plants and equipment in the coming year than they were planning to this time last year. That primarily reflects cutbacks at mining companies that have been hit hard by the lowest raw materials prices in decades. However, amid firmer export prospects, those cutback plans could be overly pessimistic.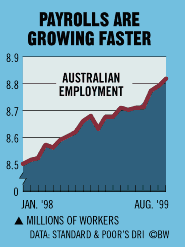 In fact, it's too early to tell if the second-quarter slowdown in GDP will last. Growth was still a strong 4.4% from a year ago, and early third-quarter reports look solid. The economy posted robust job growth during the past three months. Joblessness rose to 7.2% in August, up from a nine-year low of 7% in July. Amid lower unemployment, the lowest interest rates in a generation, and wages growing about two percentage points faster than consumer inflation--which was only 1.1% in June--consumer spending has strong supports.
So far, wage growth is not a problem, since productivity is increasing at about 3%. But if labor markets continue to tighten amid robust demand, wages and prices could accelerate next year.
Before it's here, it's on the Bloomberg Terminal.
LEARN MORE