Are Buyers Lurking In Rite Aid's Aisles?
by
What's Rite Aid (RAD) up to? Rumors have buffeted this drugstore chain ever since it put off an August meeting with analysts and announced that it was engaged in talks on "corporate transactions." In June, the company had to restate its last three years of earnings after a Securities & Exchange Commission review of its accounting practices.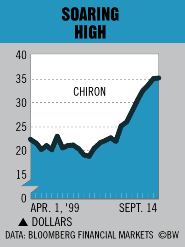 One rumor is that the likes of Safeway and Wal-Mart Stores are in buyout talks with Rite Aid. The stock's price of 18, down from 51 in January, makes Rite Aid vulnerable, says a California money manager who has been buying Rite Aid shares. Another possibility: Rite Aid, which operates about 4,000 stores, may sell some of its 300 large stores in the West. "Rite Aid is a troubled company sitting on a trove of valuable assets in an attractive industry," says John Ransom, an analyst at Raymond James & Associates. These assets, he adds, couldn't be duplicated today. Rite Aid "needs to de-leverage its balance sheet," he adds.
That is one reason why some pros believe Rite Aid may announce a deal before its meeting with analysts, which has been rescheduled for Sept. 22. Analyst Debra Levin of Morgan Stanley Dean Witter, says that if Rite Aid were sold, the price could be "roughly 25," based on recent drugstore deals. Both Safeway and Wal-Mart declined comment. Rite Aid didn't return calls.
Before it's here, it's on the Bloomberg Terminal.
LEARN MORE