Amtrak's Fast Train To Nowhere?
Delays in the high-speed Acela may threaten the railroad's future
by
So much for on-time arrivals. Acela, Amtrak's much-vaunted high-speed train, will now leave the station next spring, at least six months behind schedule, the federally funded rail line announced on Sept. 1. The delay--caused by excessive wear to Acela wheels in tests--could have far-reaching repercussions. Amtrak Chief Executive George D. Warrington is in a race against time to make Amtrak, also known as the National Railroad Passenger Corp., self-sufficient before Congress ends operating subsidies in 2002.
Acela plays a key role in Warrington's plans. The sleek 150-mile-per-hour train, with modem jacks at every seat and microbrews on tap, is expected to add $180 million in annual profits and boost market share against airline shuttles in the busy Northeast Corridor.
DISCOURAGED. The delay makes Warrington's task that much harder and gives the railroad's enemies in Congress fresh ammunition. Before the Acela announcement, Amtrak already projected a $930 million operating loss for 1999 and $908 million for 2000. "Their goal of self-sufficiency in 2002 is down the drain," says Paul Weyrich, a Republican appointee to the 11-member Amtrak Reform Council and a former Amtrak board member.
Even Amtrak fans are discouraged. "I have serious doubts about whether they can meet their operational targets," sighs Representative Bud Shuster (R-Pa.), chairman of the House Transportation & Infrastructure Committee. "Is liquidation a possibility? Yes."
Acela's delay could also turn off the public. The $20 million publicity campaign promoting it had already begun, including Acela ads plastered in Boston and Washington, D.C. Now, passengers hoping to lop some time off their trips this fall--as much as one hour and 45 minutes on the Boston to New York leg--may opt for the airport instead.
Amtrak is not the only company with its fortunes riding on Acela. Bombardier Inc. of Quebec and Britain's GEC Alsthom are building the high-speed trains as part of a $1 billion contract with the rail line awarded in 1996. The two now are bickering over who's to blame for the design flaw and thus responsible for penalties mandated in their contract. In addition to unspecified damages for nonperformance, the companies must pay fines for late delivery starting at $1,000 per train per day and going as high as $13,500 per train per day. A Bombardier spokeswoman says Alsthom is responsible for the design. Alsthom had no comment.
Warrington, a former president and executive director of the Delaware River Port Authority says he's a businessman, not a train buff. He brushes off critics. "I'm not going to be distracted by antagonists who have predicted failure and doom for the past 25 years," he huffs. He downplays the revenue loss, explaining that Acela's glitches won't delay all 20 trains on order.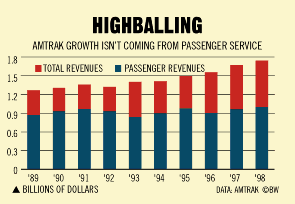 But Warrington concedes that Amtrak must be run more like a 21st century business, not a 19th century railroad. To increase revenue, he is teaming up with United Parcel Service, the U.S. Postal Service, and other railroads to haul mail and overnight freight on passenger trains. He is also eager to develop Amtrak-owned land adjacent to its stations. Ridership is up 3% so far this year and should surpass last year's 21.9 million passengers. Passenger revenues also are on the rise, growing 4% in 1998, to $1.7 billion. Still, for a decade, Amtrak's total passenger revenues have barely budged--the business has grown by adding other revenue (chart).
But even if Amtrak breaks even, the political battle won't be over, Warrington says. A viable passenger rail system will need about $1 billion a year in federal subsidies to build and maintain its infrastructure--almost twice what it got this year, he contends. "I'm getting tired of hearing comparisons about what it's like to ride a train in Europe. You get what you pay for," Warrington says. "If we invest capital, we will be a market force in this country." Perhaps. But first this train has to leave the station, and fast.
Before it's here, it's on the Bloomberg Terminal.
LEARN MORE