U.S.: Don't Bet The Farm On Recent Jobs Data
Wall Street may be reading too much into one month's numbers
by
After a fusillade of stronger-than-expected economic reports on everything from home buying to car sales to prices paid by purchasing managers, Wall Street ran for cover. The data firmly suggested that the Federal Reserve would have to push through a third interest-rate hike at its Oct. 5 meeting. Then came the softer-than-expected August employment report. Since the Fed's main focus is on tight labor markets, the future looked bright again, and investors felt easier about leaving their bunkers.
From late August to right before the job-market data, the Dow Jones industrial average sank nearly 500 points and the 30-year Treasury-bond yield jumped to 6.13%. But after the job numbers came out on Sept. 3, stocks and bonds rallied enthusiastically. The Dow soared 235 points, and bond yields fell back to just over 6% on news that nonfarm payrolls increased by only 124,000 last month, and that wages of production workers were up a tame 0.2% from July.
But is the August employment report really telling the story that the markets want to hear? Maybe not. The labor market story cannot be told in one month's data. Job growth has been volatile this year, and the August payroll gain followed a very large increase of 338,000 in July (chart). Over the past three months, job increases have averaged 248,000 per month, faster than the 215,000 pace averaged so far this year.
And while the gain in average hourly earnings was small, earnings had increased at faster rates in both June and July. So, over the past three months, hourly pay has been rising at a 3.7% pace, which suggests that after last year's slowdown, wages are picking up again.
MORE IMPORTANT, FEW OTHER INDICATORS suggest that job growth is slowing down sufficiently to prevent the unemployment rate from drifting lower in coming months. In particular, first-time claims for jobless benefits have fallen below 300,000 per week for six weeks in a row, with the four-week average of claims close to a 26-year low. Any loosening in the job markets will show up first in the weekly jobless claims data, but so far the numbers suggest only further tightening.
Another sign that the demand for labor is not easing is the acceleration in hours worked in July and August. Total worktime is on track to increase at an annual rate of more than 3% this quarter--three times faster than hours grew in the second quarter. Since hours worked are often a good proxy for overall economic growth, the pickup suggests that output growth is rebounding solidly from its second-quarter slowdown, when the economy grew at only a 1.8% annual rate.
Moreover, there are few signs that demand, especially by consumers, is cooling off. Sales of cars and light trucks in August hit a sizzling 17.6 million annual rate (chart). That's not only the highest of the year but the highest in this 8 1/2 year expansion as well. Consumer spending this quarter appears to be growing between 3% and 4%. That's down from the phenomenal 5%-plus pace in recent quarters, but it's still a strong showing. And unless the trade deficit posts another steep drop, the speed of consumer spending usually sets the pace for the economy as a whole.
THE STRONG DATA ON DEMAND underscore anomalies that cropped up in the August jobs data, especially the large declines in both manufacturing and building payrolls. Construction jobs declined by a hefty 29,000, the fourth-largest drop in this expansion. But that decline came even as new-home sales in July jumped to their second-highest tally ever, and homebuilding promises to at least equal its record pace of 1998.
Of course, housing--and construction in general--is beginning to show signs that its two-year boom is topping out, slowed in part by rising mortgage rates. Construction spending fell 0.5% in July, a sign that this key sector may be a small drag on third-quarter growth. However, even with higher borrowing costs, tight job markets and wealth gains are still supporting home demand. So housing may plateau, but a sharp slowdown isn't in the cards. That means that some rebound in construction jobs is likely in September.
Likewise, the factory job data look dubious. Manufacturers said that they cut 63,000 workers last month, after adding 51,000 in July, the first substantial gain in 1 1/2 years. Also, the factory workweek fell by 12 minutes, to 41.7 hours. The August drops run counter to almost every other manufacturing indicator that shows factory activity is picking up after last year's lull caused by weakening exports, especially given that foreign demand is on the rise again.
One possible explanation is exaggerated seasonal adjustment: Factory orders jumped strongly--and broadly--in July, posting the largest increase of the year. Partly reflecting those thickening order books, there were fewer layoffs than usual in July, according to Labor Dept. officials, which boosted payrolls that month. But that resulted in fewer additions to payrolls in August, which made the numbers look weaker than they really were.
ON THE WAGE FRONT, more comprehensive measures of wages and benefits across a broader swath of the labor force show that overall labor costs are rising faster than the mild pace indicated by just the hourly earnings of production workers. In particular, the Labor Dept.'s revisions to second-quarter productivity and costs show that compensation, which covers more workers and includes various forms of pay such as stock options, is up 4.3% over the past year (chart).
So far, productivity growth of 2.8% over the past year has been enough to offset much of that advance. But since labor costs are unlikely to slow in a labor market where only 4.2% of the labor force is unemployed, productivity growth must continue to increase rapidly to prevent unit labor costs from speeding up.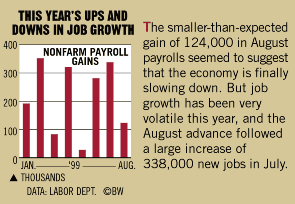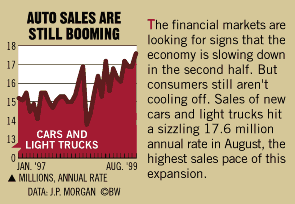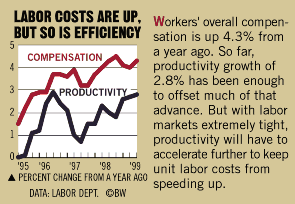 Keep in mind that productivity growth slowed sharply to a 0.8% annual rate in the second quarter from the first, and unit labor costs soared at a 4.5% annual rate. And because the economy in the third quarter does not appear to be growing much faster than hours worked, another weak quarter for productivity growth appears to be unfolding. That will lead to a further gain in unit labor costs.
To be sure, the weaker-than-expected job report seems to have lowered the chances of another rate hike at the Fed's Oct. 5 policy meeting. That's especially true given the Fed's statement following its Aug. 24 rate hike, suggesting that it was willing to wait a while before raising rates again. However, without more concrete evidence that the economy is cooling off, and absent clearer signs that labor markets are loosening up sufficiently to ensure that further wage pressures do not build, Wall Street may feel under attack again before this year is out.
Before it's here, it's on the Bloomberg Terminal.
LEARN MORE