Tokyo's Battered Bourse
Tech-savvy rivals rock the TSE
by
Koichi Suzuki is the kind of entrepreneur who makes Tokyo Stock Exchange officials lose sleep. Suzuki spent seven years building a high-flying Web service provider, Internet Initiative Japan Inc. (IIJ). But when he needed cash to buy high-speed communication lines and take on Japan's mighty Nippon Telegraph & Telephone Corp., he decided to list his company in August on Nasdaq--which he regards as the big time. "I respect information technology companies like Cisco Systems and Ciena," Says Suzuki. "I'd like to be in the same market with such companies."
It's another example of how the tables are turning on the financial mandarins who have long micromanaged Japan Inc. For years, Japanese companies that wanted to go public followed the same, carefully choreographed rite of passage. Almost every venture had to prove its worth in the financial bush leagues, first on one of the country's eight local bourses, the over-the-counter market, or on the TSE's second section, a trading board for second-tier corporations. If the company was very good and met rigid criteria for performance, it eventually joined the blue chips on the TSE's first section. Ventures were willing to wait as long as 20 years to make it to the first section, which had the best position for raising capital in the country.
Very orderly, very Japanese--and very stifling. The system probably starved many worthy companies of needed capital. But now the pressures of recession, deregulation, and global money flows are taking their toll on this arcane convoy of stock exchanges. Local bourses in Hiroshima and Niigata have announced plans to close their doors next year. And a slew of aggressive American exchanges is about to encroach on the TSE's growth opportunities. The New York Stock Exchange set up a Tokyo office in March and is recruiting such blue chips as Toyota Motor Corp., now listed only on the TSE.
In June, SoftBank Corp. President Masayoshi Son said he will team up with Washington's Nasdaq to lure hot startups to a new board, dubbed Nasdaq-Japan, by 2001. Alternative trading systems such as Reuters Group PLC's Instinet Corp., which matches up buyers and sellers of stocks electronically, also are exploring ways to enter Japan.
STODGY. These developments are threatening to transform Japan's stodgy equity culture, which has done dangerously little to raise the billions that Japan's entrepreneurs need. And the institution that has the most to lose is the TSE. At first look, that might be hard to believe: After all, the Nikkei index of TSE-traded blue chips has been on a roll this year. But trading volume on the TSE is far, far lower than a decade ago: Many of the listed companies, still mired in losses and stuck in dead-end industries, are barely trading at all. With revenues sliding by one-third, to $345 million, over the period, the TSE ran up a $1.5 million loss in the fiscal year ended in March--its first deficit in five years. Five foreign companies, including German chemical giant BASF, have delisted from the TSE in the past six months, leaving only 47, compared with 125 in 1991. If Japan's best high-tech startups decide to skip the bourse, "the importance of the TSE will deteriorate," says Akio Makabe, research general manager at Dai-Ichi Kangyo Research Institute.
Besides feeling frustration with TSE red tape, local startups also figure offshore listings deliver greater prestige and access to global capital markets. That's especially true for Internet ventures, which still aren't well appreciated in Japan. "If you list in Japan, you're recognized in Japan," says Toru Arakawa, who is considering listing his Internet browser firm Access Co. on Nasdaq. "But if you list overseas, you have the attention of investors in America, Europe, and Asia."
Perhaps, when the old rules of Japan Inc. seemed permanent, TSE executives would have brushed these threats off. But now, even the Ministry of Finance, the exchange's old protector, is backing deregulatory moves in order to make the TSE more globally competitive. So the TSE is starting to act. It's planning to set up its own market for fast-growing startups this November. It will waive a requirement that applicants post earnings for at least three years, which once prevented startups from quickly listing. It also will launch a section to accept even companies that are in the red. But disclosure will be more demanding: Companies must file quarterly financial reports, compared with twice a year as the TSE now requires. And it has eased some hurdles for entry onto the first section, such as a rule that companies issue at least 100 million shares.
TSE officials insist they've gotten the message that the exchange must be more responsive to the needs of companies such as IIJ. "Today, these types of companies are going to the U.S. only because a similar market is not available to them here," reasons Masamichi Yoshida, a TSE manager who screens new issues. Soon, he vows, that problem will be solved.
Still, it has proven tough in the past to copy the Nasdaq model in Japan. In 1996, the Japan Securities Dealers Assn. established a special section of the over-the-counter market, called Jasdaq, for startups. But it only attracted three companies in three years. "It was a failure," says Osamitsu Yamada, chairman of the Japan Entrepreneurs Assn. Investors saw the section as only a training ground for second-rate companies yearning to be TSE blue chips, not a market with heft, like Nasdaq. The TSE hopes the new markets, with relaxed registration rules but tougher disclosure, will be taken more seriously.
It may still prove tough to win over Japan's notoriously risk-averse investors and securities houses unaccustomed to valuing Internet ventures. "The problem is not the formal requirements," says Japan Securities Research Institute economist Takao Saga. "It's that Japanese brokers do not want to bring startups to market."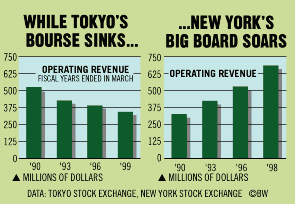 Yet Nasdaq, with the help of Son, seems to have already captured the hearts and minds of many young Japanese businesspeople. "Because of Nasdaq-Japan, we young entrepreneurs can go public in three to five years and attain the American dream," says 32-year-old Junichi Izumi, who resigned as an account executive at Japan's prestigious advertising firm Hakuhodo Inc. in December to start girlsgate.com, an interactive marketing agency.
A recent Japanese newspaper poll showed that 40% of companies planning to go public hope to list on Nasdaq-Japan, even though the bourse has not yet submitted a detailed plan for MOF approval. The TSE has to compete against that kind of popularity. And competition is not something that the established institutions of Japan are used to dealing with.
Before it's here, it's on the Bloomberg Terminal.
LEARN MORE