If you haven't heard of PICO Holdings (PICO), you're not alone. It gets hardly any coverage on Wall Street. But PICO is seen by some as a value play: It has water and land assets, insurance businesses, and a Net venture to boot. The stock is trading way below the value of its parts--and doesn't reflect the worth of its Internet link, argues Amit Wadhwaney of New York's J. Whitman.
PICO's assets include Nevada Land & Resource, valued by Wadhwaney at $71 million, or $6.60 a share; Vidler Water in the Southwest, worth $8 a share; two property and casualty insurers worth $6.20; and other assets he values at $6.25.
PICO's Web connection comes from its 44% stake in HyperFeed Technologies, a provider of financial data and news to professionals and consumers worldwide. HyperFeed is the owner of PCQuote.com, which is scheduled to go public in weeks, at 11 to 13 a share.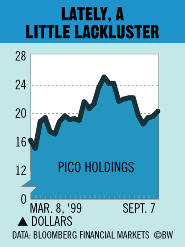 Right now, HyperFeed represents the lowest value in PICO's diversified holdings, he says. But it also has the largest potential for growth. He figures that if PCQuote.com trades at 12 a share, it would imply a valuation of $188 million. HyperFeed will retain half of PCQuote.com's 15 million shares outstanding. To PICO, that would mean an aftertax value of $31 million, or $3.20 a share, estimates Wadhwaney. But that's a very lowball figure, he maintains.
He says PCQuote.com could rapidly shoot up, just like many other Internet IPOs. He calculates that every $1 change in the per-share price of PCQuote.com's will mean a 25 cents-a-share change for PICO. PICO earned 18 cents in the quarter ended June 30, on sales of $14.5 million. Says Wadhwaney: "Any surprises will be on the upside." PICO currently trades at $20 a share. All in all, says the analyst, PICO is worth at least $30.
Before it's here, it's on the Bloomberg Terminal.
LEARN MORE