Genesis: A Strong Start On The Web
by
What a difference a year made for J.W. Genesis Financial (JWG), a full-service brokerage. Its stock has streaked from 5 to 16. Also, JWG acquired Genesis Merchant Group Securities last year for $15.8 million--and this year its institutional sales and research unit for $4 million and its clearing operations for $59 million.
Cash-rich, with about $60 million, JWG is diversifying into the Internet: It has formed mvp.com, a Web portal designed to provide lifestyle info: sports, health and fitness, and financial services. JWG has hired former National Football League star John Elway to spearhead mvp.com as its spokesman. The former Denver Broncos quarterback owns 50% of mvp.com.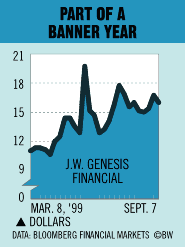 With the Internet unit likely to go public after it gains momentum (it will be launched at Super Bowl XXXIV in January, 2000), "this is the time to buy into J.W. Genesis," says Charles Payne, an analyst at Wall Street Strategies, a New York research firm. He sees the stock "doubling, at a minimum, in 12 months," helped by the projected impact of mvp.com on JWG's sales and earnings. He figures mvp.com is potentially worth $100 million. But even without mvp.com, he figures JWG is worth 20 a share. Joel Marks, vice-chairman of JWG, says the company is in talks with America Online. mvp.com aims to become the leading lifestyle portal, he says.
Before it's here, it's on the Bloomberg Terminal.
LEARN MORE