Fixing Rubbermaid Is No Snap
Newell's stodgy turnaround effort has investors upset
Andrew Osterland
When Newell Co. announced a blockbuster $6 billion deal to buy Rubbermaid Inc. last October, Wall Street analysts and big investors barely batted an eye. Sure, it was pricey. But Newell executives had earned their stripes turning around troubled houseware companies--more than 50 in the past decade. They call the process "Newellization": clear out top management, send in the shock troops to fire people, sell or scrap unprofitable products, and consolidate distribution.
It was a formula that seemed to work without fail as Newell squeezed profits out of a stable of brands it bought up including Levolor window blinds, Calphalon upscale cookware, Sanford pens and markers, and Rolodex card files. In an industry growing 3% to 5% a year, the Newell acquisition machine posted average sales growth of 13% and profit growth of 17% over the past 10 years. And fallen star Rubbermaid seemed primed to take Newellization to the next level. "This deal is bigger, but it's not really different," Newell Chief Executive John H. McDonough said in an interview last month.
Oh, really? Suddenly it looks like instead of Newellizing Rubbermaid, Newell is being Rubbermaided. On Sept. 3, the combined Newell Rubbermaid Inc. announced it would fall short of sales and earnings forecasts for the rest of this year. That came on the heels of two previous quarters of missed targets and lowered expectations. McDonough has since been unavailable to talk further with BUSINESS WEEK, but in an uncharacteristically tense conference call with analysts, he blamed a sluggish retail market environment for slower growth in several Newell product lines. But clearly, Rubbermaid, whose lines include Graco infant products and Little Tikes toys, also has proven much harder to digest than expected when the deal closed in March. Its sales fell 7% in the second quarter, and they could sink 6% in the third, says A.G. Edwards analyst Stephen F. East. He adds: "There's a lot of disappointed investors, and they're waiting for another shoe to drop."
Plenty have given up waiting altogether. Newell's stock fell 20%, to 33, in a few hours after its warning. It was already down from a high of 54 7/16 in July, 1998. That's quite a comedown for a consumer-goods star whose stock returns in the '80s and '90s outpaced the Standard & Poor's 500-stock index by an annual average 30% vs. 19%.
Performance of that sort had long given Newell a far sexier profile on Wall Street than its humdrum brands would normally attract. But McDonough now faces a tough job getting Newell's shine back. The 63-year-old executive worked as a Newell vice-president in the '80s before moving on to found dental supply company Gendex Corp. He was rehired as CEO in January, 1998, when then-CEO William P. Sovey became chairman. A no-nonsense manager who operates out of a converted farmhouse near the Freeport (Ill.) headquarters, McDonough bought eight companies in his first year in the corner office. That followed a tradition set by Daniel Ferguson, Newell's CEO from 1965 through 1992, who first adopted the consolidation strategy. His goal: to expand the products Newell could offer up to merchandisers such as Kmart, Home Depot, and Wal-Mart.
TOP CANDIDATE. Newell's management hasn't shied from tough deals--it bought paintbrush maker EZ Paintr in '72 after a bitter fight and lost a struggle for Stanley Works in '92. But the purchase of Rubbermaid was by far Newell's biggest. The company had '98 revenues of $2.5 billion, a size not that far off of Newell's own $3.7 billion in sales.
Rubbermaid certainly looked like a top candidate for Newellization. For all its smarts in churning out well-designed products--molding plastic into efficient storage containers, sturdy baby carriages, and durable industrial products--Rubbermaid had become a basket case in actually making and delivering them. Despite numerous restructurings under former CEO Wolfgang R. Schmitt, Rubbermaid saw its operating profit margins slip from 16% to 5% in four years. And it brought in operating income of just $131.8 million for 1998, compared with the $534.1 million Newell earned. "In a way, they were too innovative," says McDonough. "They thought their brand would carry them."
Rubbermaid paid a steep price for gumming up its customers' just-in-time delivery systems. Wal-Mart Stores Inc., frustrated with late and incomplete deliveries, cleared many of Rubbermaid's Little Tikes toys from its shelves, giving the space to Fisher Price Inc. products. Says Mike Maher, a Wal-Mart spokesman: "The issue [at Rubbermaid] has never been about the products themselves. It's been about getting those products into the hands of consumers."
After the merger was signed, McDonough got a closer look at the skeletons in Rubbermaid's closet. According to Newell, Rubbermaid salespeople had boosted orders by offering deep price discounts. Now Newell management is having a tough time undoing the damage. It soothed some ruffled retail feathers, the company says, by lifting Rubbermaid's rate of on-time product delivery from a dismal 75% to 80% into the 90s. But so far, retailers are balking at restocking inventories at higher prices. "Buyers are used to Rubbermaid throwing them deals," says Barry Goggins, an analyst at David L. Babson & Co., which bought 2.5 million Newell shares starting last year.
In cost-cutting, McDonough says, the Rubbermaid integration is on track. Analysts had expected Newell to squeeze $270 million in annual savings by consolidating Rubbermaid's manufacturing and other operations. According to Newell, that process is well along. It has cut 700 jobs at Rubbermaid, including Schmitt and his top managers, and it scrapped a Little Tikes toy plant in Pennsylvania. But Wall Street also expects McDonough to add $80 million or so in new revenues as he smooths distribution. That now looks doubtful.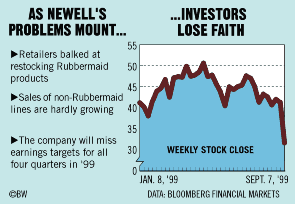 EXCESS BAGGAGE. Even more ominous, perhaps, the problems don't appear limited to Rubbermaid. Newell says its non-Rubbermaid sales will grow only 1% to 2% in the third quarter. That's half of Newell's 4% average annual internal growth rate over the past five years. Sales remain strong in areas like cookware and pens. But Newell's home hardware brands, Amerock and Bulldog, are under pressure, in part because of the bankruptcy of a large customer, the Hechinger Co. home-improvement chain.
Anemic growth may force Newell to step up marketing, not one of its traditional strengths. McDonough hopes Newell will learn something about pumping up its brands from Rubbermaid. But don't expect him to wait long before jettisoning baggage. Last year, McDonough sold the plastics division of Anchor Hocking glassware and the Stuart Hall Co. school supplies business because they weren't meeting profit targets. As the Newell acquisition engine sputters, its chief mechanic may have no choice but to pull over for a while and do some tinkering.
Before it's here, it's on the Bloomberg Terminal.
LEARN MORE