In this market, it isn't enough to meet earnings expectations: Companies need to beat the so-called whisper numbers. That's what DSP Communications (DSP) learned when its second-quarter earnings met consensus estimates but were below whisper figures. Shares of DSP, a leading developer of chip sets for the cellular, PCS, and wireless-phone markets, dived from 31 to 23 in just two days.
But some analysts remain bullish. Matthew Robison of Ferris Baker Watts upgraded his rating to strong buy, with an unchanged 12-month target of 40. And Warburg Dillon Read's Jeffrey Schlesinger stayed with his strong-buy opinion. DSP has rebounded to 27.
The stock may heat up even faster: Several pros believe that DSP is being eyeballed as a buyout by Motorola and Conexant Systems, a developer of technology to combine analog and digital functions. Both companies, says a California investment manager, would round out their products with DSP's technology. DSP's products have a high level of software components.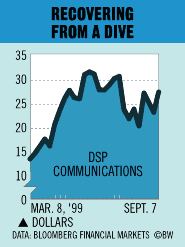 Ferris Baker's Robison points out that DSP provides "digital signal processing algorithms and code, along with application-specific circuitry in the form of chip sets for wireless handsets," which, the analyst says, has the largest unit volume electronics market worldwide. DSP is well positioned, he adds, to benefit from the strong worldwide demand for wireless handsets, particularly in Japan, Korea, and China. Motorola declined comment. DSP didn't return calls. Conexant spokesman Michael Stugrin says, "We're in the process of looking for acquisitions and we expect to do a deal at the appropriate time." But he wouldn't comment on DSP specifically.
Before it's here, it's on the Bloomberg Terminal.
LEARN MORE