Canada: All Eyes Are On The Fed's Next Move
by
Can the Bank of Canada avoid following the Federal Reserve? That's the big question in the brightening outlook for the Canadian economy. So far, the BOC has sat back while the Fed has hiked U.S. rates twice since June 30. But with the rate differential growing, Canadian policymakers may have to move if the Fed hikes a third time.
The BOC's inaction reflects its desire for the economy to maintain its first-half momentum. Real gross domestic product grew at a 3.3% annual rate in the second quarter, following a 4.2% gain in the first quarter. Strong consumer spending and investment in Y2K-compliant computers powered the spring advance. The vitality in domestic demand is evident in the latest data for retail sales, housing, and capital-spending plans, said the BOC in its August quarterly report. As a result, the bank expects the economy to grow at the upper end of its growth forecast of 2.75% to 3.75% in 1999.
Meanwhile, inflation is at a low 1.8%, and last quarter's current account deficit totaled 5.25 billion Canadian dollars ($3.5 billion), less than expected. A federal surplus means interest payments are down, and robust U.S. demand has boosted exports.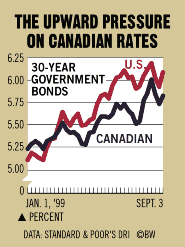 Lower rates have been a driver for domestic demand, but another Fed hike may force a BOC increase. The U.S. federal funds rate is now at 5.25%, vs. the Canadian policy rate of 4.75%. And long-term U.S. rates are about a quarter-point above comparable Canadian yields (chart). The fear is that investors will sell off Canadian holdings for a bigger payoff in the U.S. That could lead to a downturn in the Canadian dollar.
So far, though, the Canadian dollar has been holding its own against the greenback. The "loonie" was trading at about 67 cents to the U.S. dollar in early September, up from 66 cents in late July. The strong Canadian economy has been one support for the loonie, as have rising prices for commodities produced in the western provinces. But doubts are arising about whether the loonie can withstand a third Fed hike without a similar move by the BOC.
Before it's here, it's on the Bloomberg Terminal.
LEARN MORE