About.Com: About Face?
The badly beaten Net stock shows signs of life
Amey Stone
About.com really burned investors this summer. After its March initial public offering, it surged to a high of 100 and then stumbled to 19 1/2 by early August. But in recent weeks, About.com has been on the mend (chart). Fans of the company are drooling over rapidly growing revenues and traffic. And in the peculiar ways of Internet analysts, some pros think that even though it has mounting losses and isn't expected to turn a profit until late 2001, it's a value play.
MOVING UP. About.com operates 650 online guides, managed by real people, on a broad range of topics. It basically functions like a search engine, but instead of indiscriminate listings, the guides offer original content, links to other sites, and chat rooms. The company changed its name from MiningCo.com in May and launched an expensive branding campaign that seems to be paying off. In Media Metrix' July traffic rankings of the top 50 Web sites, About.com jumped from 20th to 17th, with 8.3 million separate visitors. About.com toppled ZDNet Group from its perch as the No.1 news, information, and entertainment site. "Its reach and ability to generate advertising revenues are increasing markedly," says Wit Capital analyst Jordan E. Rohan, who expects About.com to be a top 10 site by yearend. Meanwhile, About.com's revenues are growing quickly. For the first half, it took in $6.1 million, 11 times more than the $548,000 it garnered in 1998's first half. About.com recently signed deals to be included among search providers on Netscape Netcenter and to be listed in search results on AltaVista. Amid such encouraging news, Rohan raised his revenue projection for 2000 from $62.5 million to $70 million and lifted his 12-to-18-month price target from 60 to 65.
Steve Harmon, chief executive of San Francisco Internet investment firm e-harmon.com thinks About.com is cheap based on what he calls market cap per unique user. With a $400 million market cap, About.com is valued at $48 per unique, or separate, user; the average top 10 Web site is around $500. Analyst Derek Brown of Volpe Brown Whelan also finds About.com a bargain by looking at its enterprise value--market capitalization minus cash, plus debt. About.com has $61.5 million in cash, and Brown estimates its enterprise value at 5.6 times estimated 2000 revenues, well under the multiples for Lycos (11.5), CNET (15), and Yahoo! (37.8).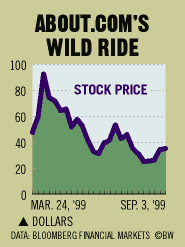 There are some concerns for investors, namely About.com's losses. Due mainly to promotional spending, the company lost more than $20 million in the second quarter, compared with a $3 million loss a year before. CEO Scott Kurnit says he'll spend less on marketing in the third and fourth quarters. While that will help the bottom line, some fear the site's need for humans to provide content will limit how fast the company can grow. And the six-month bar on insider sales following the IPO expires Sept. 24, possibly creating a glut of shares.
If you're a diehard fan of About.com stock, you have to be willing to accept revenue and traffic growth in place of current profits. But after investors were so badly let down, it may be a while before they're willing to return About.com to its lofty heights.
Before it's here, it's on the Bloomberg Terminal.
LEARN MORE