U.S.: Profits: An Even More Important Tea Leaf To Read
With stock prices driving demand, earnings take on a bigger role
by
More than anything else, the surge in the profitability of American corporations has been the root of the U.S. stock market's incredible run in recent years. Whether that runup in stock prices has been overdone is a question that investors and policymakers at the Federal Reserve continue to grapple with. But the fact remains that the outlook for earnings will always be the central factor in determining stock prices. And stock values have become an increasingly integral part of evaluating the economic outlook.
The economy, equity markets, and profits were very much on the mind of Fed Chairman Alan Greenspan at the Kansas City Fed's Aug. 26-28 symposium in Jackson Hole, Wyo. Greenspan said that a key issue for stock prices was the proper measurement of profits. He believes that some standard practices understate profits, primarily because the rapid growth of technology is blurring the difference between a capital outlay that generates future returns and an expense that is simply consumed during the production process.
For example, he said, many companies expense computer software, which cuts into profits, even though software should be capitalized. Undercapitalized costs are a support under current stock values, Greenspan said. But even after all proper adjustments to profits are made, it is unlikely "that such adjustments can be the central explanation of the extraordinary increase in stock prices over the past five years." As Greenspan said early in the speech, asset values rest on perceptions of the future. In particular, investors must be confident that profits will continue to grow.
SO WHAT IS THE OUTLOOK FOR PROFITS? Based on the Commerce Dept.'s latest roundup of the second-quarter earnings of some 20,000 U.S. companies, profit prospects are good--but maybe not as terrific as the nearly 30% growth shown by some aggregations of big-company results last quarter. Earnings will be supported by the unrelenting vigor of U.S. demand and by renewed foreign buying. However, businesses face rising costs for both labor and raw materials (chart). Higher interest rates will cut into profitability as well.
Commerce reported that corporate profits, after putting inventories and deprecIation on a replacement-cost basis, rose 4.8% from a year ago. That's a considerable improvement over the stagnation shown during most of 1998, but growth is about half the pace racked up in 1997. Moreover, after seasonal adjustment, Commerce said that second-quarter earnings actually fell from the first quarter.
To be sure, corporate profitability remains historically high. But margins are under pressure for the first time in this 8 1/2-year expansion (chart). In the second quarter, nonfinancial corporations made 13.5 cents for each dollar of real output, down from 13.7 cents in the first quarter and from an expansion high of 14.7 cents in the third quarter of 1997.
LABOR COSTS WILL BE A KEY PLAYER in the profit outlook in the coming year. They accelerated in the second quarter, and early signals from wages and ever-tighter labor markets suggest a continued pickup in this quarter. So far, productivity growth has been sufficient to offset rising labor costs, but a further acceleration in wages would require a commensurate speedup in productivity, which appears unlikely.
In addition, given the Fed's two rate hikes in as many months, each a quarter-point, and given the risE in long rates, many companies will be shelling out more in borrowing costs. Net interest paid by nonfinancial companies began rising last year. It hit $100.6 billion last quarter, up from $91.9 billion 1 1/2 years ago. Interest expense will rise further in the second half as the recent rate hikes work their way into corporate borrowing costs.
Companies will also be paying out more for their materials and supplies. That was clear from the August survey of purchasing managers. In a report accidentally released one day early, the purchasers said that business activity in the industrial sector continued to pick up last month. The overall index rose to 54.2%, an increase from 53.4% in July, led by stronger readings on new orders, inventories, and employment. Most notably, the purchasers' index of prices that they paid for materials increased to their highest level in four years.
Revenue gains will be another crucial piece of the profits outlook. Luckily, consumers show little inclination to slow their spending. Real household spending posted a 0.2% gain in July. Vehicle purchases fell, but demand for electricity jumped as households pumped up their air conditioners in response to the record-breaking heat wave across most of the U.S. And consumer confidence in August remained near its 30-year high, set in June (chart).
HOUSEHOLDS CONTINUE TO SPEND more than they earn. Real aftertax incomes fell 0.1% in July, but incomes were lifted in June because of farm subsidy payments. Over the past year, real income has risen 3.4%, while spending is up a faster 5.1%. As a result, the July savings rate stayed in negative territory.
That gap between income and spending is being financed in part by stock market gains. But Greenspan also pointed out that rising house prices have played a bigger role. "It is evident that borrowings against the capital gains on homes influence consumer outlays beyond the effects of gains from financial assets," he said. Consumers are taking money out of their homes by home-equity loans and mortgage refinancings. Also, because of tax-law changes, sellers no longer have to roll over all of the capital gain from a home sale. Instead, they can buy a smaller house and pocket some of the money.
As long as home demand remains strong and selling prices continue to rise, homeowners will feel richer and will be more likely to spend. And so far, home sales remain robust, even with rising mortgage rates. New single-family home sales edged up 0.1% in July, to a 980,000 annual rate, while June's rate was revised up sharply from 929,000 to 979,000.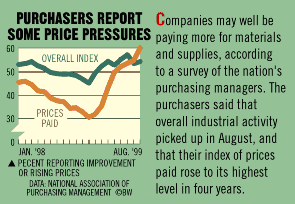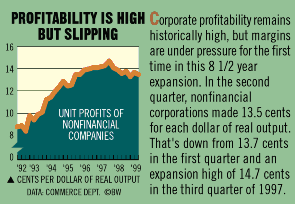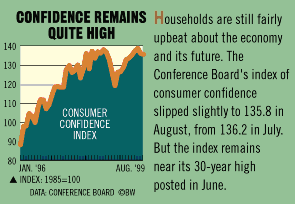 Given the recent slowdown in mortgage applications, sales have probably peaked. But the strength in housing also has a spillover effect on consumer spending. Demand for furniture, lighting, textiles, and appliances will continue to rise even as home sales flatten out. Keep in mind that in the gross domestic product data, consumer spending on furniture and household equipment is larger than the value of residential investment.
When will the buying binge end? Undoubtedly, when some economic event spooks consumers. That's one reason why the Fed remains concerned about a "bubble" in the equity market. As Greenspan pointed out, the stock market and consumer demand have become linked. That's why an upbeat profits outlook is increasingly important to the outlook for the economy.
Before it's here, it's on the Bloomberg Terminal.
LEARN MORE