This Side Of Paradise
Edward C. Baig
Totaling a rental car wasn't our idea of a dream Hawaiian holiday. We were turning into a market off Maui's famous Hana Highway when we were rear-ended by a skidding truck. I had heard the road was a tortuous drive, but we hadn't even reached the scary parts. Thankfully, nobody was injured, and with a new car, we were back on course the next morning.
If you can handle stomach-wrenching hairpin turns, single-lane bridges, blinding glare, and reckless local drivers, the road to Hana is the most stunning drive in all of Hawaii. Roll down the windows and revel in majestic eucalyptus trees, bamboo waving in the wind, waterfalls, and glorious cliffs, not to mention the scents of guava and ginger.
Start your drive on Highway 36 by gassing up in or before Pa`ia, a former sugar plantation town, now populated by windsurfers, not far from the main Kahului Airport. Although the trip to Hana from the airport is only about 50 miles, allow at least 2 1/2 hours each way for photo stops and to navigate the road's most precarious stretches. By the time the route takes you onto Highway 360, you'll be crawling along at 10 or 15 miles per hour. You'll also need to pull over when another vehicle beats you to a single-lane bridge.
Our first stop was the Kaumahina State Wayside Park, just past the 12-mile marker. We stayed long enough to snap pictures of the rugged shoreline below and to buy drawings from a local artist. A twisty four miles later we arrived at the lovely Ke`anae Arboretum. Parking is in short supply--you'll have to leave your car on the side of the road--but it's well worth a visit. We walked along trails adorned with tropical heliconia flowers, fruit trees, and patches of taro plants, a starchy staple of the Hawaiian diet. You can also dip your feet in a tiny stream or hike along a paved path into a rain forest.
DIVERS. At milepost 22, we pulled off into the Puaakaa State Wayside, a terrific venue for a picnic lunch. We sat under a pagoda, munching sandwiches, and watched kids fearlessly plunge from the top of a high waterfall into a pool. Just past milepost 25, we made our first turn off the main highway, down a bumpy, three-mile road that drops 1,000 feet to the sea. Along the way, we passed through Nahiku, a largely abandoned village that served the rubber industry around the turn of the last century. The vista at the water's landing is magnificent. Peering across the bay we felt the mist from imposing waves that punished rock outcroppings in the water.
Not far from the turnoff is Waianapanapa State Park, just beyond milepost 32. You can camp overnight, provided you have a permit and reservations (808 984-8109). We didn't, but we did enjoy a trek along a coarse, black sand beach, with its pretty view of the cove. We didn't hang out in Hana for long--the drive itself was our inspiration. But you can stay at the luxurious Hotel Hana-Maui resort ($395-$795 per night; 800 321-HANA), a favorite of celebrities.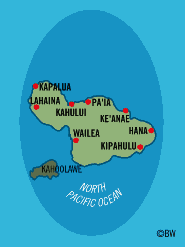 Having mastered the road to Hana, you might be tempted to do the entire eastern portion of the island. Think twice before you do. The road gets worse--portions are unpaved and narrower than the twisting highway--and you'd better have a four-wheel-drive vehicle. In fact, driving past Kipahulu, roughly an hour beyond Hana, violates most car-rental contracts. Given our accident a day earlier, we wisely avoided the back road out of Hana. The way in was impressive and difficult enough.
SIDE TRIP
About 10 miles south of Hana, take in the enchanting `Ohe`o Gulch. Tour maps will direct you to the Seven Sacred Pools, but it's more like two dozen. They're also a short drive from the Ho`omau Congregational Church, where aviator Charles Lindbergh is buried.
Before it's here, it's on the Bloomberg Terminal.
LEARN MORE