Taking Your Time To Taos
Sandra Dallas
Most travelers between Santa Fe and Taos opt for the fast route along the Rio Grande River. But in the fall, when yellow cottonwoods shade the road and strings of red chilis, called ristras, hang from the eaves of adobe houses, the 70-mile-long high road to Taos makes for an enchanting journey into New Mexico's colonial past.
You'll need at least two hours for the drive, but with stops at galleries, churches, and eateries, the trip can easily occupy a full day as you wind through one Spanish village after another. Begin at Pojoaque, 16 miles north of Santa Fe, on U.S. 84/285. Turn east on New Mexico Route 503, then drive through the high desert for about eight miles. When the road forks, go left.
After two miles, stop in Santuario de Chimayo. Its adobe church, built about 1816, has wooden bell towers topped by wooden crosses. Inside, it's decorated with retablos, folk paintings of saints done on boards. Mass is said here daily. On Good Friday, hundreds of the faithful, among them World War II veterans from Albuquerque, make a pilgrimage to the site. Miracles are attributed to dirt taken from a hole in the floor of a little room behind the sacristy, and many worshippers take bags of it home in hopes of curing the sick and lame or keeping lightning from striking. Abandoned crutches hanging on a wall testify to its power.
A store across from the church, El Potrero, stocks ground Chimayo red chili, perhaps the most flavorful in the Southwest. If it's getting close to lunchtime by this point, head down the road a mile to Rancho de Chimayo, set in an apple orchard in the village of Chimayo. Sit outside under the cottonwoods for carne adovada, pork in red chile sauce.
Chimayo is also known for a distinct style of weaving dating to colonial times. Ortega's Weaving Shop, located where the High Road turns east onto New Mexico Route 76, has been in business for eight generations. Big looms located off the showroom produce colorful rugs and jackets with bright stripes. A set of four placemats is $54; a coat is $495. Centinela Traditional Arts, a mile or so farther down the high road, sells more artistic--and costly--weavings colored by dyes extracted from black walnut hulls or the bright yellow chimasa flowers that dot the road this time of year. Prices range from $5 for a coaster to $36,000 for a finely detailed Saltillo blanket.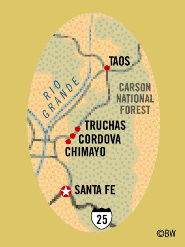 Beyond Chimayo, wind upward along the spine of the Sangre de Cristo mountains, to Cordova, where Santeros once carved wooden statues of saints, now prized by collectors and museums. Today's carvers turn out rough-hewn statues of monks that are popular in New Mexico gardens. After Cordova, you'll hit Truchas, the village where Robert Redford's The Milagro Beanfield War was filmed. Eight miles beyond lies Las Trampas and its adobe church of San Jose de Gracia that dates to before the Revolutionary War. Every few years, loyal Catholics hand-plaster the exterior with a mixture of mud and straw. Inside are plank floors, hand-carved beams, and wooden candelabra, along with santos and retablos.
Continue six miles more, to Penasco, and turn right onto New Mexico Route 75. Seven miles beyond, turn left onto Route 518 toward Taos and enter Carson National Forest, where chamisa and sage give way to pine trees and golden aspen. The high road ends 15 miles later, at Route 68, the main Santa Fe-Taos highway. To the right lies the congested commercial strip leading into Taos, a reminder of why you took the picturesque road through history.
Before it's here, it's on the Bloomberg Terminal.
LEARN MORE