Playing It By Ear In The Philippines
Lourdes Lee Valeriano
To most travelers, the Philippines is synonymous with beaches. But heading inland has its own pleasures, as I found when I set off for the Central Cordillera Mountains on the northern island of Luzon. Be prepared, though. To go on the road in the Philippines and enjoy it, you need a keen sense of humor and highly developed improvisational skills.
Banaue, my destination, is nestled among mountains that were carved into rice terraces thousands of years ago. The terraces, which sprawl over four provinces and are still farmed, are among the most extensive wet rice structures in the world and have been designated a World Heritage site by UNESCO. Awesome as they are, the terraces weren't the only draw. I had jumped at the chance to see close hand the Ifugao highland culture, which has endured despite incursions of lowlanders like me.
My friends and I began our trip in the mountain city of Baguio, an hour's flight from Manila. Right off, we had to toss our plans out the window. We had intended to drive the 130 miles from Baguio to Banaue via the Halsema Mountain Highway, described by those who have driven on it as among the world's most beautiful. But it's a highway in name only: A recent landslide made Halsema impassable. So with a tank full of gas and a cooler full of bottled water and wine, we backtracked south through two provinces, made a U-turn, then headed north again.
A feature of driving in the Philippines is sampling regional treats. We bought fried pork rinds from a street vendor in one town, a pretzel-like pastry in another, and sweet green oranges in a third. Coconut pies and cooked duck embryos warm in their shells are delicacies you can savor by just rolling down the car window.
After 10 hours on the road, we arrived in Banaue in the rain. Even partly obscured by clouds, the sight of mountain after mountain of striated slopes took our breath away. Our spartan but pleasant hostel, the Banaue View Inn, overlooked the town. A private room with bath goes for $23 per night (011 6374 386-4078). The inn also has a museum of Ifugao artifacts--from baskets and woven blankets to carved wooden rice gods--and photos from the American colonial era, the first time the Ifugaos had prolonged contact with the outside world.
Banaue is best enjoyed without a schedule. You can take in the vista from Banaue View Point just outside town or check out the bronzesmiths of Matanglag, but no one will fault you if you don't. Many of Banaue's pleasures are the simplest: One day, I set my sights on two picturesque huts on the mountain in front of me, and just started walking. I never made it to the huts, but I skirted some terraces and got to see a village or two along the way.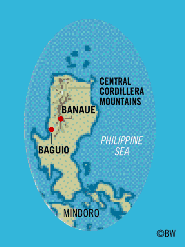 A trip to Hapao, a village 10 miles outside Banaue known for its woodcarvers, showed up a disadvantage of driving in the area. While the countryside is magnificent, we couldn't tear our eyes off the road, since in many spots our tires were only inches away from the edge. Just outside Banaue, we followed a sign to the home of an enterprising family that had put their mummified ancestors on view. But when we got there, the garrulous, betel-chewing patriarch explained that recent family illnesses have convinced him that his desiccated grandparents may not enjoy being on display. Still, the side trip was worth it just to see the rice granary decked out with skulls of cows and pigs that the family had slaughtered for their rice gods over the years. And the old man not only gave a spiel on the traditional mummification process but also regaled us with jokes and puns. It was another enjoyable day of plans going astray.
GETTING AROUND
In the Philippines, you can rent a chauffeur along with a car. In fact, rental agencies such as National Car Rental would prefer it. SUVs and pickups--with driver--run around 3,000 pesos ($75) a day. Drivers get a per diem from the company for their meals and accommodations.
Before it's here, it's on the Bloomberg Terminal.
LEARN MORE