Mti: A High Tech Highflier
by
Shares of MTI Technology (MTIC) haven't been going the way of many tech stocks: It has been winging higher. MTI, a provider of high-performance data storage solutions, such as storage management software, to blue-chip companies, was trading at 5 in early April. It has since zoomed to 22. Part of the reason is MTI's switch to fiber channel-based technology, which allows speedier transfer of information. But more important is MTI's hidden asset: It has acquired a 25% stake in privately held Caldera Systems, aprovider of the Linux operating system for business.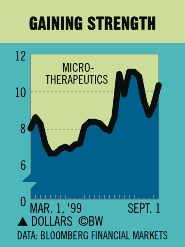 "MTI's investment in Caldera could achieve long-term value for MTI shareholders," says Brion Tanous, a senior analyst at First Security Van Kasper, a California investment bank, "based on the high valuation of Red Hat," a distributor of the Linux operating system for desktop computers. Red Hat went public on Aug. 11 at 14 a share. It soared to 52 that day and now trades at 79 5/8.
Tanous figures that, based on Red Hat's valuation, MTI's 25% stake in Caldera is worth 21 3/4 a share to MTI shareholders. Based on that and MTI's earnings growth, he values MTI at 49. Here's an added kicker: MTI Chairman Ray Noorda, who owns 51% of MTI, also owns Caldera. The betting: Noorda will take Caldera public.
Before it's here, it's on the Bloomberg Terminal.
LEARN MORE