Microtherapeutics Is On The Mend
By
With the recent swirl of takeovers in the medical devices industry, MicroTherapeutics (MTIX) is gaining new fans. "It represents the only public pure play in the more than $1 billion neurovascular intervention market," says Sam Navarro, managing director at ING Baring Furman Selz. He notes that a number of companies have expressed an interest in MicroTherapeutics, which makes micro-catheters and micro-guidewires for the treatment of vascular ailments such as blood clots.
Several big companies already have bought hefty stakes in MicroTherapeutics: Abbott Laboratories owns 11.4%, Guidant has 6.3%, and Japan's Century Medical, 2.4%. The stock, which slumped to 6 3/8 on Apr. 7, has since sprinted to 10 1/2.
Navarro says that while MicroTherapeutics' proprietary micro-catheters and micro-guidewires have become its first technology platform, its emerging embolization technology for neurovascular applications "could catapult it to become one of the most attractive takeovers in the field."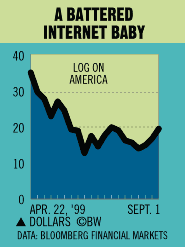 Among the possible buyers, "Guidant appears the most likely to go after MicroTherapeutics," says Joanne Wuensch, an analyst at ING Baring. "The fit for Guidant is that MicroTherapeutics would widen its reach into the neurovascular market," she says. MicroTherapeutics is developing its Onyx system for neurovascular and other applications. Wuensch expects the first case using Onyx to treat an aneurism will take place in Paris in the next two weeks. "That will be a milestone for MicroTherapeutics," she says. If it's successful, Wuensch and Navarro expect the stock to surge. Their target: 20 in six months or a year. Guidant declined comment.
Before it's here, it's on the Bloomberg Terminal.
LEARN MORE