It's A Bmw! It's A Porsche! It's An Suv
Fancy names crowd into the luxury sport-utility market
Joann Muller
For a while it looked as if Mercedes-Benz, the carmaker that showed how to give the sport-utility vehicle that luxury cachet, was going to get trounced at its own game. With reports of quality problems and tough competition from the Lexus RX300, an even smoother-riding SUV hybrid, M-class sales in the U.S. tumbled more than 14% during the first half of 1999. But thanks to quality improvements and increased production, sales of the DaimlerChrysler sport-utility jumped 60% in July over 1998 and 11% in August.
Still, Mercedes can't afford to rest on its heated leather seats. Behind the RX300 is a burgeoning field of plusher $40,000-plus SUVs. And while sales growth among traditional sport-utes has slowed, there's plenty of room for expansion--and hefty per-vehicle profit--in the luxury market.
REDEFINED. First up will be BMW, which will begin shipping its $50,000 X5 sport-utility to dealers in November. It'll be followed by new SUV models from virtually every luxury nameplate over the next four years, including Saab and, believe it or not, even Porsche. Their motivation is simple, says Wes Brown, automotive analyst at NexTrend in Thousand Oaks, Calif.: "Companies saw people had these Jeep Grand Cherokees in their garages parked next to their Mercedes or BMW, and they said, `I want a piece of that."'
Fueled by sustained economic growth and demographic shifts, sales of luxury SUVs are breathing life into a light-truck segment that was running out of gas. Indeed, sales of compact SUVs--the mainstream sector--have been flat for two years, and Standard & Poor's/DRI analyst Lincoln Merrihew predicts saLes will dip 1.4% this year. "The RX was just what the doctor ordered," he says.
Introduced in April, 1998, the RX300 now represents more than one-third of all Lexus brand sales, and production capacity is tapped out at 70,000 units. But while the RX300 and M-Class essentially created the market, says Nextrend's Brown, the X5 "will completely redefine what luxury SUVs can be."
BMW, which already makes Range Rover SUVs through its Rover subsidiary, was slow to develop an SUV under its own nameplate because it insisted that The truck live up to BMW's "ultimate driving machine" performance standard, says dealer Frank Ursomarso of Union Park BMW in Wilmington, Del. "They're a year or more later than I would have liked," he admits. But he thinks the X5 will make up lost ground quickly. Although sales will be limited the first year as BMW ramps up production, analysts expect annual sales of 35,000--and predict the high-performance X5 will take a bite out of both the Lexus RX300 and the Mercedes M-class. Built at BMW's Spartanburg (S.C.) factory, the X5, like the Lexus, differs from conventional four-wheel-drive vehicles because it's not built on a truck frame. Instead, it features the type of unibody construction commonly used in passenger cars. That helps it absorb more energy in a crash, making the vehicle safer, BMW says.
Mercedes dealers say they aren't worried, however. "I think there's plenty [of business] to go around for everybody," says Ray Burke, senior manager at House of Imports in Buena Park, Calif., the nation's largest Mercedes dealer. He noted that the M-class got a boost after its top crash-test rating in an insurance industry group's evaluation earlier this year.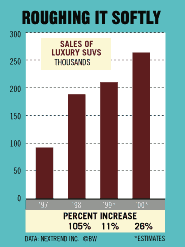 GLITCH HITCH. But Mercedes is still rebuilding a slightly tarnished image. Last spring, the M-Class ranked near the bottom of J.D. Power & Associates' annual quality survey with problems such as electronic key fobs that didn't work, paint drips, and poorly aligned exterior parts. But Mercedes says it fixed the glitches. In fact, Michael Jackson, president of Mercedes-Benz USA, blames the sales drop on parent DaimlerChrysler's decision to divert U.S.-built vehicles to Europe, where the M-class was being launched, and not on quality problems. Now, Mercedes SUVs are being built at a plant in Austria to meet European demand. Although M-class sales are down 5% so far in 1999, Jackson expects to finish up 5% to 10%, despite the new competition.
Yet, to steal a bit of thunder from BMW, Mercedes will launch a souped-up version of the M-class, called the ML55, around the same time the X5 debuts. For makers of luxury SUVs, life's getting to be a traffic jam.
Before it's here, it's on the Bloomberg Terminal.
LEARN MORE