Ecuador: Restructuring The Debt Restructuring
by
Ecuador, a $14.5 billion economy with debts totaling $13.3 billion, may default on its $6 billion in Brady bonds. On Aug. 25, President Jamil Mahuad said the country would defer a $96 million interest payment due Aug. 28 for 30 days, the Brady grace period. Ecuador, which faces millions more in various external obligations coming due by yearend, says it will attempt an unprecedented restructuring of its Brady debt, but the road will be difficult.
Ecuador's Brady bonds--named after former U.S. Treasury Secretary Nicholas Brady, who drafted the plan to restructure Latin American debt piled up in the 1980s and partly backed by U.S. Treasury securities--are themselves the result of a 1994 debt restructuring. Also, any renegotiation will depend on the government's receiving a loan from the International Monetary Fund. This is needed to restore investor confidence and to support Ecuador's sinking economy, which is expected to contract 7% this year, with inflation of 60%. The sudden Aug. 31 resignation of Finance Minister Ana Lucia Armijos, who was expected to coordinate the whole process, will only complicate matters. E31conomy Minister Guillermo LAsso will take over.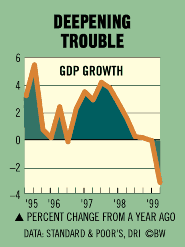 On Aug. 30, Ecuador signed an IMF loan agreement totaling $1.25 billion, which would go toward bolstering foreign reserves. None of the IMF money can be used to pay debts to prevent selective bailout of private investors. The problem: The loan is contingent upon fiscal measures and banking reforms that are unlikely to pass the opposition-led Congress. Armijos' last official act was to introduce a $4.2 billion IMF-approved budget for 2000, down sharply from $5.2 billion in 1999, that is expected to fuel economic growth of 3% next year and cut inflation to 25%.
So faR, the secondary market for other Latin American Bradys has taken the news in stride.
But analysts fear that a default by Ecuador could taint other Brady debt, as well as retard the Latin American recovery by hiking risk premiums on many Latin investments.
Before it's here, it's on the Bloomberg Terminal.
LEARN MORE