Eat, Drink, And Keep Pedaling
by
It's around noon when Paco brings up the idea of mutiny. We're huffing and puffing up a pine-covered mountain in the wine district of northern Spain, La Rioja. Ahead is Paco's trimmer and younger brother-in-law, Antonio, our leader. If we both vote to head back downhill, Paco tells me, our ordeal is over.
We're suffering, truth be told, as much from gluttony as the hills. Paco is doubtless feeling the tapas we had the night before, not to mention a cholesterol-choked glazed pigs-feet concoction he ate for dinner. All of this was washed down with plenty of red Rioja wine. This is the dilemma: No matter how cool its mountain air and untrammeled its roadways, La Rioja also boasts a local cuisine that's among Spain's finest. Only the most committed bikers can resist its temptations.
NO CROWDS. Wedged between the cooler, wetter Basque Country and the dry plains of Castile and a three-hour drive from Madrid, La Rioja has a microclimate perfect for tempranillo grapes that go into the oak-cured local wine. Far from the tourist hordes on Costa del Sol, it offers a year-round retreat for bikers and hikers and even a small downhill ski mountain, Valdezcaray.
More interested in biking than in touring vineyards, we stayed at a lodge in the hill country, Hosteria Valle del Oja (phone 011-34941 427-416), near the town of Azarrulla. It's simple and clean, about $80 a night, and it has a fine restaurant with a fireplace. As you turn out of the driveway on your bike, you're on country roads--seriously hilly ones, featuring switchbacked climbs of 3,000 to 6,000 feet. Even with mountain bikes, it's a grind. But the ride is exhilarating. And in late October, the cherry trees turn a brilliant red and the ashes turn yellow, making the scenery even more spectacular. Other routes in the Rioja (named for a river, the Rio Oja) are far gentler. North of us, between Haro and Logrono, bikers can ride through rolling vineyards. At Santo Domingo de Calzada, you can follow the pilgrimage route to Santiago de Compostela, 360 miles to the west.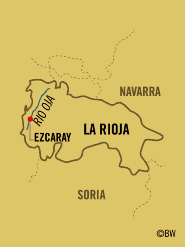 No matter which route you pick, make a point of eating at Hotel Restaurante Echaurren in Ezcaray (011-03941 354-047). The restaurant is unpretentious, but its cuisine combines Spanish flavors with the more elaborate preparation of France. The menu degustacion is an eight-dish odyssey that runs from duck, trout, and green-pepper soup to two desserts--all for under $40. We accompany it with Marques de Riscal, a dependable Rioja that reminds me of good California zinfandel. With more biking ahead, perhaps I should have opted for mineral water. In La Rioja? Fat chance.
Before it's here, it's on the Bloomberg Terminal.
LEARN MORE