Like most other Net stocks, Log On America (LOAX), which streaked to 37 when it went public on Apr. 22, is way down--to 20 on Aug. 31. But don't log off, counsel some pros: Little-known Log On America has caught the eye of big Internet and telecom players.
A U.S. telecom company is set to invest $25 million in Log On for a 10% stake, say sources close to the scene. This telecom company will help Log On build a $100 million network for Internet and phone services in New England.
Nortel Networks, a globAl supplier of telecom gear, and Cisco Systems, which makes networking material for the Net, have formed alliances with Log On, which provides a full range of services, including Net access and local phones. Both Nortel and Cisco are represented on Log On's board.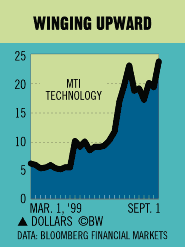 Structured as a Net service provider and a "competitive local exchange carrier (CLEC)," Log On America "should be a winner in the battle for the broadband, or high-speed Internet connection, market," says Joseph Vaini, an analyst at ITM Group. A CLEC is authorized to provide local phone services in competition with "incumbent" local exchange carriers (ILECs)--such as the regional Bells.
Vaini says Log On America, which has yet to make money, aims to be a one-stop provider of Internet access and voice, data, and video transmission services. The company has been busy acquiring other CLECs. With its growth strategy, aided by a fast expanding broadband market, Log On could achieve revenues of $50 million on an annual basis by mid-2000, he says.
He figures that, based on the market valuation of comparable companies at 6 to 10 times their revenues, Log On shares could trade at $33 to $54 a share in nine months or a year.
Before it's here, it's on the Bloomberg Terminal.
LEARN MORE