A Ferry Here, A Tram There...
by
Hong Kong has more Rolls Royces per capita than any other spot on earth, and parking lots are jammed with Mercedes, BMWs, and Jaguars. But one of the best ways to explore this island city is to use its diverse mass-transport network. Trams, ferries, minibuses, and double-deckers all offer an inexpensive way to take this vibrant city's pulse.
With my two children and a visitor from the U.S. in tow, and with a bilingual transit guidebook in my pocket, I set out to travel through Hong Kong using as many kinds of conveyance as possible. Our jumping-off point was the 8:30 a.m. ferry to Mui Wo (Silver Mine Bay) on Lantau. The largest of Hong Kong's 200 islands, Lantau is an hour's boat ride from Central, the business district.
The trip is a spectacular cruise through one of the world's busiest harbors. And Lantau, with strict limits on motor vehicles and with few roads around its steep, green, volcanic hills, has a languid air that is in sharp contrast to Central. The No. 13 bus to the town of Tung Chung on the north side of the island zipped along the southern coast before turning inland, straining up a one-lane road through a pass between a pair of 3,000-foot-high peaks. Terraces of old tea plantations climbed the hillsides, while lush, flowering orchids twining on trees hung inches from our faces.
FRONT ROW CENTER. After 40 minutes, we arrived in Tung Chung, a bustling warren of apartment buildings all built in the past three years. There we caught the S1 shuttle bus to the nearby new airport, where we grabbed a snack and the E34 express bus headed for Yuen Long in the northwest corner of the New Territories. We got the best seats in the house--the front row on the top of a double-decker. A huge window provided a panoramic view as we crossed the Tsing Ma Bridge, a breathtaking span that dwarfs SaN Francisco's Golden Gate.
A quick ride on a new expressway, much of it tunneled through mountains, whisked us into Yuen Long. Like Tung Chung, Yuen Long was a country village until recently. Today, nearly 400,000 people are crammed into the community, four miles south of the Chinese border. Hong Kong's LRT light-rail system--streetcars similar to San Francisco's Muni trolleys--runs between Yuen Long anD the nearby city of Tuen Mun, and we hopped on. We made a quick transfer to the No. 64K bus across the northern New Territories. Brilliant, red-flowering flame trees and palms lined the broad valley before the bus moaned up a corkscrew road and over a mountain pass. It let us out at the Tai Wo station of the Kowloon Canton Railway, which runs along the eastern coast of the New Territories, with fabulous views of ocean and mountains.
At Kowloon, we shifted to the Mass Transit Railway. It's clean, well-lit, comfortable, and crowded, carrying 2.3 million passengers on an average workday. We got off at Admiralty, the first stop on Hong Kong Island, and hopped on a double-decker tram back to Central. These curiosities, nearly a century old, are a delightful, low-speed way to soak up the street life, although ours collided with a wheelbarrow. We disembarked at the angular I.M. Pei-designed Bank of China building and walked to the Peak Tram, a tourist favorite that let us out 1,211 feet above sea level.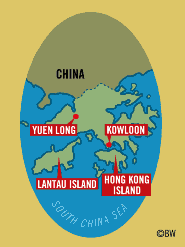 After some ice cream to restore my children's flagging spirits, we hopped on the No. 1 minibus for another spectacular ride, down Peak Road back to Central. We ended our trip on Pedder Street in the heart of the business district. Our eight-hour jaunt cost only $38 for tickets for the four of us--a bargain in a city where gasoline runs $5 a gallon. True, our travel wasn't as smooth as it would have been in a Rolls. But it sure was more fun.
SEA CRUISING
Boat fanciers will love the Star Ferry, whose squat, green-and-white ships run between Hong Kong Island and Kowloon. Or take a high-speed ferry from Tuen Mun to Central. For a real treat, hop on a small sampan, known as a kaido, from Aberdeen on Hong Kong Island to Lamma Island, a car-free picnic-and-hiking paradise.
Before it's here, it's on the Bloomberg Terminal.
LEARN MORE