Wall Street: Nowhere To Go But Up?
The interest-rate increase could mean higher stock prices
Marcia Vickers
Just as Hurricane Bret threatened to be one of the fiercest ever, it quickly dissipated into a tropical storm, giving way to sunny skies over choppy seas. The market may have taken a similar turn.
Over the past weeks, investors have been dazed and confused about a market depressed by rising interest rates. But as it became almost certain that the Federal Reserve would raise rates, the Dow Jones industrial average ended up at its second-highest level ever on Aug. 24. The Standard & Poor's 500-stock index and the Nasdaq Composite Index both beat their previous day's high. On Aug. 24, in what seemed almost an anticlimax, the Federal Reserve came through with quarter-point increase. Yet the market hung in, even though the higher Fed funds rate was coupled with an unexpected quarter-point increase in the discount rate. "The only thing the market hates is uncertainty. It can deal with anything once it's on the table," says Alfred Goldman, chief market strategist at A.G. Edwards & Sons Inc.
In fact, the interest-rate hike, according to strategists, bodes well for the stock market for the remainder of the year. "It's clear that the correction over the past few weeks is over. And now that the rate increase is out of the way, the market should continue to advance," says Goldman.
One clue the correction may be over: The number of New York Stock Exchange issues hitting new lows peaked some two weeks ago, with new lows outnumbering new highs almost 5 to 1 (chart). Since then, new highs have gone up slightly. "This shows the sell-off is over," says John E. Gray, editor at Investors Intelligence newsletter.
Y2K AHEAD. But just how long can the market continue to go up? Many strategists say that it will drift upward at least through yearend. One reason is that it's doubtful the Fed will raise rates again this year. "The evidence of inflationary pressure just isn't there," says John H. Shaughnessy, chief strategist at Advest Inc. Also, with the global economy, especially Asia and Latin America, finally starting to improve, Shaughnessy says a rate increase could cause those economies to reverse. "Greenspan doesn't want to step on their financial toes," he says. Yet another rate-increase deterrent: Y2K technical problems or concerns are likely to cause an economic slowdown toward the year's end.
Earnings are a major factor. Third- and fourth-quarter results at U.S. companies look strong. Profits in both quarters are projected to be 21.4% higher than last year's comparable periods, according to First Call Corp.
Finally, investors have become much less bullish recently. And, as investors become more bearish, analysts become more bullish. According to a mid-August PaineWebber/Gallup poll, investor optimism regarding the economy dropped to its lowest levels in more than two years. And investor optimism regarding the stock market declined sharply in August, down from an all-time high in July.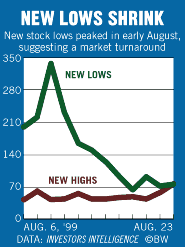 But though the Dow has staged a comeback, the average S&P-500 index stock is still 18% off its 52-week high and the average Nasdaq stock is down 33%. That's why many growth-stock enthusiasts have gotten pickier, forsaking highly valued big stocks for companies with solid fundamentals and strong earnings momentum. "To earn money from here, you'd better own a company that can grow earnings," says A.G. Edwards' Goldman. Some companies he likes: Pfizer, Warner-Lambert, Intel, Dell, Wal-Mart Stores, and Fannie Mae. Others, such as Advest's Shaughnessy, are more focused on strong growth companies that will benefit from global improvement such as IBM, General Electric, Apple, and, once again, Intel.
Going forward, investors' best bet may be to be "cautious bulls." However, the market, like hurricane season, may still bring surprises.
Before it's here, it's on the Bloomberg Terminal.
LEARN MORE