New Century May Get A New Owner
by
It has been a tough grind for subprime mortgage lenders, particularly for the underfinanced small fry in the business. Many of them have either gone under or been acquired by larger companies. One survivor that some money runners believe is buyout-bound is New Century Financial (NCEN), which has had impressive growth in total assets, revenues, and earnings.
"We won't be surprised if New Century gets taken over," says investment manager Vince Carino, president of Brookhaven Capital Management, which has accumulated a 10% stake. New Century provides loans--secured primarily by first mortgages on single-family homes--to borrowers with impaired or limited credit profiles.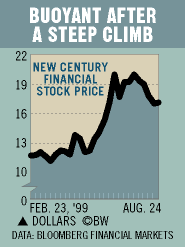 Although the stock has already climbed from 10 a share in late March to 17, Carino argues that New Century is still "ridiculously cheap." Trading at just 5.6 times his 2000 estimated earnings of $3 a share, the stock is worth 25 to 30 in a buyout, says Carino. He figures the company will earn $2.50 a share in 1999, vs. last year's $2.03.
Some pros believe a likely buyer is U.S. Bancorp, which already owns 23% of the stock. U.S. Bancorp "sees New Century as a vehicle for growth, and that's the reason it has bought into the company," says one big investor. Both U.S. Bancorp and New Century declined comment.
Before it's here, it's on the Bloomberg Terminal.
LEARN MORE