Middlesex Water: Thirsty Neighbors?
By
Water is hot, and more of it than most people realize is sold by publicly held companies. Stock picker Charles LaLoggia, who has been high on water utilities since December as potential takeover targets, has seen two of his picks bought out in the past three months: Aquarion, operating in Connecticut, received a bid in June from Britain's Yorkshire Water, and United Water Resources, based in Harrington Park, N.J., got an offer on Aug. 23 from France's Suez Lyonnaise des Eaux. Two others got acquired earlier in the year. So who's next?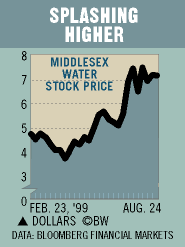 LaLoggia, editor of LaLoggia's Special Situation Investor newsletter, is convinced that Middlesex Water (MSEX), which serves parts of New Jersey and Delaware, will attract one of the majors for two important reasons: Middlesex is an unrecognized "growth" water utility, and its operations are near the regions that the acquisitive outfits serve. Among them: American Water Works, which is acquiring National Enterprises, has operations in New Jersey; Philadelphia Suburban, which has bought Consumers Water, operates in Philadelphia adjacent to New Jersey; and New Jersey's United Water.
In January, Middlesex won a contract to provide services to the water and waste systems in Perth Amboy, N.J., and on May 13, the company was granTed authority for an 11.5% rate increase. These two factors, says LaLoggia, led to a 30.4% rise in sales, to $13.8 million, in the latest quarter, and a 50% jump, to 51 cents a share, in earnings.
LaLoggia figures that in a buyout, Middlesex, now at 28 7/8 a share, is worth 43, based on the takeover price of its peers.
Before it's here, it's on the Bloomberg Terminal.
LEARN MORE