Mexico: No Asian Fallout Here
Better-than-expected economic news has been radiating from Mexico lately. Output growth was stronger, and the jobless rate fell by more than was projected. Thanks in large part to NAFTA, Mexico has managed to avoid the Asian fallout that has tripped up so many other Latin American countries.
Mexico's real gross domestic product in the second quarter grew 3.2% from a year ago. Exports, especially to the U.S., remained a key source of growth, but domestic demand showed continued signs of recovery. Construction was up 5.7%, manufacturing rose 4.9%, and the service sector increased 2.9%. The latest GDP number, which followed a 1.9% yearly gain in the first quarter, suggests that the economy will hit the government's target of 3% growth in 1999.
In addition, the monthly data indicate that the economy headed out of the second quarter on firm footing. In June, retail sales rose 2.8%, and industrial output increased 5.2% from a year ago. Lower interest rates and the export boom have meant some pickup in the labor markets. The unemployment rate in July fell to a six-year low of 2.3%.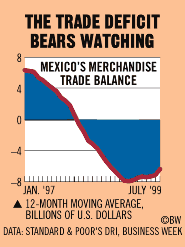 However, increased domestic demand means that Mexico's trade deficit may begin to widen again. In 1998, the trade balance fell steeply in the red with a deficit of $7.9 billion for the year, after a small surplus in 1997. Thanks to the export resurgence, trade in 1999 has been improving (chart). In the first seven months of 1999, the deficit was running at a $7 billion annual rate, with just a $168 million gap for July. In addition to domestic demand worries, Mexico's trade situation may worsen if the Federal Reserve succeeds in slowing growth in the U.S.
Moreover, investors are worried about the strong peso, now trading at 9.35 to the dollar. The Central Bank appears willing to let the peso appreciate because the bank is determined to meet its 1999 goal of 13%. So policymakers are keeping interest rates high, and this strategy is working: Prices in the first two weeks of August rose by the smallest amount since 1994.
Before it's here, it's on the Bloomberg Terminal.
LEARN MORE