Hong Kong's Loss Is Shenzhen's Gain...In Legitimate And Not So Legit Trade
Michael Cheung
After a 30-minute train ride from the heart of Hong Kong, May Wong crosses a small bridge to Shenzhen. Public Security Bureau officers sit expressionless in a dim and stuffy entry hall, monotonously processing entry visas. Outside, scores of people hawk hotel rooms and unlicensed taxicabs. Wong, a twentysomething accountant who makes the trip about six times a year, ignores the pitches and heads for Lo Wu Commercial City. The attraction: bargain-basement prices. "Everything is so much cheaper. Savings of 70% are just too good to pass up," she gushes.
That's just what worries Hong Kong. Lo Wu looks just like a shopping mall in a Hong Kong high-rise. A wide array of goods is for sale--priced in Hong Kong dollars rather than the Chinese yuan. Dozens of shops proffer custom-made curtains for an entire apartment for $200--what curtains for a single room would have cost in Hong Kong. Tailor-made suits are $60, compared with $180 or more on the other side of the border. People return to the territory lugging plastic carry-all bags stuffed with everything from toilet paper to lychee nuts.
Such deals are boosting Shenzhen, a city of 3.5 million that perversely benefited from the Asian financial crisis. Hong Kong's economy shrank 5.1% last year, and higher unemployment helped push down retail sales by a staggering 16.5%. Hong Kong shoppers heading north to Shenzhen have helped make the border one of the world's busiest: More than 100,000 people cross here every day. And the traffic is decidedly uneven, since Chinese citizens still do not have easy access to the territory.
WEEKEND HOMES. Shenzhen is also threatening Hong Kong's real-estate market. David Dodwell, co-author of The Hong Kong Advantage, notes that increased integration with Shenzhen and the Pearl River Basin is necessary for Hong Kong's long-term prosperity. He points out that for the price of a tiny apartment in Quarry Bay, a middle-class Hong Kong neighborhood, one can buy a three-bedroom house with a garden in a Shenzhen suburb. "Already, a significant number have weekend homes" in the suburbs, Dodwell says. "Fifteen years from now, with better rapid transit, better schools, better health-care services, and hopefully a more secure personal environment, a substantial number" [will be commuting daily].
Shenzhen's transformation seems to have taken place overnight. I remember as a child in the early 1980s looking out from Hong Kong across the Chinese border and seeing little but rice paddies. The metamorphosis began when Shenzhen was declared China's first Special Economic Zone in 1980, making it a small pocket of capitalism and the test bed for reforms. Its location lured large amounts of investment by Hong Kong manufacturers, who employ more than 6 million factory workers in and around Shenzhen.
Now cross-border investment is going into retail space. Rents in Lo Wu are just $10 per square foot per month, compared with $65 in the busiest areas of Hong Kong and $20 in areas closer to the border. Coupled with cheaper labor costs, they are helping beat Hong Kong at its own game.
There's a darker side to Shenzhen's allure: It's a mecca for counterfeit goods and software. Knockoffs of Polo/Ralph Lauren, Louis Vuitton, and Prada can be had at less than 10% of the retail prices for the real thing. Hong Kong consumers happily snap up these goods, since some of the high-quality fakes are virtually indistinguishable from the genuine article.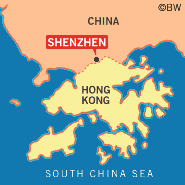 That's bad enough for Hong Kong luxury retailers, but pirated software may pose a more serious economic threat. The latest software products are widely available at 5% of the price of legal software. Howard Digby, chairman of the Business Software Alliance, contends that 59% of the software used in Hong Kong is pirated, with China the main source. Digby argues that without a full-scale crackdown, the government's hope of transforming the economy into a high-tech dynamo may crumble. "It goes to the heart of Hong Kong's future," says Digby. "People won't invest in software now, and software is what's fueling venture-capital investment in the West."
Although Hong Kong sees shades of its own past, the speed at which Shenzhen sprouted from backwater neighbor to upstart rival has been startling even by East Asian standards.