Where Jobs Are Going Begging
Mica Schneider
Leanne Cusimano tosses a plastic bowl with the remains of hollandaise sauce into my sink of dirty dishes. "Incoming!" she yells. I ignore the splash as I dry my hands and warn the chef: "Coming through." I lean over two sizzling Belgian waffle irons to place a pile of clean, warm dishes next to the stove. My mornings usually have more to do with reporting than soapy water. But the co-owner of Cafe Amore in Ogunquit has agreed to an interview only if I pitch in. Fortunately, it's a job I know well, having worked two summers in this kitchen. "We are really stuck," Cusimano says of the cafe's record-breaking season.
She's not the only one. "Help Wanted" signs dot this three-mile stretch of seacoast in southern Maine, where the season won't end until November. The U.S.'s low unemployment rate may be great for the economy, but it's murder on small businesses. Even as tourists descend en masse, some businesses are cutting back for lack of employees. "We had half as many applications as we did last year," says Bradley Ousback, manager of 125-room Meadowmere Resort. "There's no more sitting back and playing employer," laments Ogunquit Chamber of Commerce President Gordon Lewis. So I'm here in Ogunquit--where I spent five summers as a waitress, salesperson, and candy-weigher--to see how the town's businesses are coping.
Not well. Cafe Amore is jumping but now closes at 3 p.m. instead of 10 due to lack of help. Business at Fancy That, a gourmet sandwich shop, was great last year, yet it moved to smaller quarters, which "eliminated 20 employees," says co-owner John Cavaretta. Billy Tower, who operates Barnacle Billy's restaurant, says: "We work the few people we have to the brink of death." Others, such as 127-year-old Cliff House, pay a $50 bonus for every new hire recommended by an employee. The owner has shelled out some $500.
In the old days, employers did little more than take applications from U.S. students like me who were willing to work for low wages in exchange for a summer at the beach. Today's students are less carefree and want internships or jobs that look good on their resumes. "High school students are starting to see that they're at a competitive disadvantage if they're just twirling a lifeguard whistle and flipping burgers," says Mark Oldman, co-founder of VaultReports.com, which reports on work trends and offers career and placement services. For the lucky few, their parents' fat stock portfolios are giving them the summer off. "Families don't need their kids to work as much," says Scott Merrill, a local resort owner.
So, with local unemployment at just 2%, the only way to get workers, say many small-business owners, is to hire from abroad--Jamaica, Poland, France, Bulgaria, Russia, and the British Isles. In short, from anywhere but here.
Cavaretta, who also co-owns a grocery store and an ice-cream shop, has added four foreign workers. He found them through InterExchange, a New York nonprofit cultural-exchange group that arranged for 43 student workers in Ogunquit. U.S. students go back to school in late August. Foreign workers stay through September.
InterExchange places about 10,000 foreign students in U.S. jobs each year, mostly in the hospitality industry. Students pay transportation and a fee of about $300 to cover InterExchange's costs. Employers are not charged for the service but must find low-cost housing. They're also paying 50% to 100% over minimum wage, and some even offer bonuses at the end of the season. Cavaretta raised the price of an ice-cream cone to $2.25 from $1.95 last summer to cover the increased labor cost.
The state is helping, too. Maine has long attracted seasonal workers from outside the U.S., mostly to agricultural jobs. Employers "have to prove to us that there is a shortage, to make sure an American worker isn't being replaced by a foreign worker, and that they're not doing this to get cheap labor from abroad," says Juan Perez-Febles, director of Maine's Migrant & Immigrant Services Div. Then they get temporary H-2B alien certificates, matching workers and employers.
This summer, 60 foreign workers have H-2Bs for beach resorts, up from 14 last year, and Maine is processing a request for 200 ski-resort workers from Australia. Merrill turned to the state to hire eight Jamaican women who will stay through October. "They've really lessened the burden," says Merrill, who plans to employ other foreign workers next year. Most who come through the state get three-to-six-month work permits, and they're paid minimum wage or better.
TELL YOUR FRIENDS. Foreign workers are generally enthusiastic about their jobs. "I will recommend everyone to come here," says Martina Kredatusova, 21, a teacher from Slovakia, who got her job as a housekeeper at the Meadowmere through InterExchange. Kredatusova says jobs at home are limited, and in addition to earning money here, she's learning English. She's even weighing a U.S. career in entertainment: A restaurant owner who heard her play the piano wants to book her.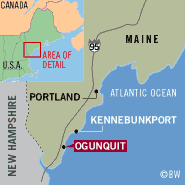 At Native Grounds, Nikolay Radivoev, 23, a fashion designer from Bulgaria who serves coffee and pastries to early-rising vacationers, is grateful for his job, too. He designed men's fashions at home and dreams of a career in New York. He's applying for an extension of his visa and expects the money he earns in Ogunquit to pay for his move to the city. He's glad for the tips, he confides, setting down a cappuccino, from tourists who "dress terribly."
At Cafe Amore, I've been upgraded to busgirl, then to muffin stocker, but after three hours, my shift is over. I get a few thanks, some hugs goodbye, and a pound of Cusimano's granola. I could get a job, of course, but clutching my notebook, I run for my car before the dishes can pile up again.