"Until Housing Bends, Neither Will The Economy"
A slump due to higher rates would have a ripple effect
Stephanie Anderson Forest
For a year, Carla Cerkleski and fiancee Bill Braley had been contemplating a bigger house. In July, they took action. Three days after hitting the market, their old home was snapped up for $150,000--some $10,000 above market value. By early August, the couple was unpacking in their new $178,000 digs in the Dallas suburb of Plano. "By moving quickly," says Cerkleski, a 50-year-old insurance underwriter, "we locked in a 7.5% fixed [mortgage] rate before interest rates rise even further."
If Federal Reserve Chairman Alan Greenspan has his way, that's all but assured. In anticipation of further Fed action, mortgage lenders have pushed the average rate on a 30-year mortgage from 6.95% in late April to above 8% today, the highest level in two years. Economists and market watchers are betting that higher rates will finally rein in the U.S. housing boom, which will go a long way in helping Greenspan slow down the economy. "Until the housing market bends under the weight of higher interest rates, neither will the economy," says Mark M. Zandi, an economist with Regional Financial Associates in West Chester, Pa.
Zandi reckons that total housing-related activity--everything from homebuilding to purchases of home furnishings to the wealth effect created by rising real estate prices--accounted for as much as 25% of the growth in real gross domestic product in the first quarter of this year and 27% in the second quarter. But as the sector bumps up against higher rates, housing may end up being a drag on the economy in the fourth quarter, sapping growth. "Housing is playing a disproportionately important role in influencing the performance of the broader economy," Zandi notes.
A SPREE. The ascent of the stock market may be getting credit for driving the consumer-spending spree, but many economists say the real propellant has been brick-and-mortar wealth. "Any wealth effect from [stocks] remains concentrated among high-income households," says Diane C. Swonk, chief economist at Bank One Corp. "The larger issue for most is the equity in their homes and their ability to tap into it."
And tap they have. The Federal Reserve estimates that since 1995, capital gains from home sales have added as much as $150 billion annually to the economy. Swonk figures that "cash out" refinancing, in which homeowners get cash up front in exchange for a bigger mortgage, contributed about $60 billion in extra income for consumers in the past year alone--much of which ended up being splurged on new cars and home remodelings, with little going into savings. Now that higher mortgage rates have all but dried up the refinance binge, Swonk next expects the refi bust to cut into consumer spending--chopping the growth rate to 3% in the fourth quarter, from 7% in the first.
No problem. David F. Seiders, chief economist of the National Association of Home Builders, and others say the sector could use a cooldown, as the torrid pace over the last 18 months has left builders struggling to keep up with demand and sent prices soaring. "A slowdown in the market is probably a healthy thing right now," says Bob Talkington, senior vice-president for residential real estate lending at Dallas-based Guaranty Bank. "I've been in the business since 1970 and I've never seen a market where demand is exceeding supply in so many markets across the country all at the same time."
Higher rates have yet to dampen home sales, but they probably will in time. The National Association of Home Builders' Housing Market Index, which gauges builders' future expectations for the market, fell three points in July, to 74, reflecting, in part, builder concerns about rising rates, the group says. And, in June, housing starts dropped 5.6%, to an annualized rate of 1.57 million units, representing the slowest home-building rate in more than a year--although the slowdown had as much to do with shortages of labor and materials as rates.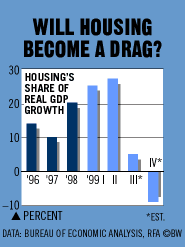 Prices have not felt a chill--although in posh Silicon Valley areas there was a pause as high rollers, poorer after the Net-stock correction, headed for the sidelines. In June, national median prices on existing home sales jumped a record 4.3%, to $137,000, while volume surpassed expectations, jumping 10.6% in June, to a seasonally adjusted annual rate of a record 5.53 million units. Housing experts and economists say the surge was almost entirely because of consumers such as Cerkleski and Braley jumping into the market to lock in lower rates. In real estate, as in comedy, timing is often everything.