Can Boeing Get Lean Enough?
It's aggressively trimming costs, but turbulence lies ahead
Janet Rae-Dupree
As mating dances go, few are more complex than the joining of airplane wings and bodies on Boeing Co.'s assembly lines. Until recently, workers had to struggle five days on each 737 jet, using 30-year-old equipment to manually calibrate and recalibrate the parts until they lined up just right. But now, thanks to a new laser-alignment device, the whole thing takes just two days.
Such small victories are key if Boeing is going to prove that it has beaten the production nightmares of the last two years--and that it's ready for the next big challenge. The aerospace giant has boldly promised Wall Street it will keep earnings steady next year, and double operating margins, from 3.6% this year, to 7% in 2003. Problem is, the vow comes as the slowdown in Asian orders forces Boeing to cut plane production by 23% next year--shaving revenues by some $10 billion. To keep profits aloft, it will have to crank out planes faster and cheaper than it has in years.
How? For starters, Boeing has jettisoned unprofitable airplanes that it inherited from McDonnell Douglas Corp. after their 1997 merger. To slash its inventory costs, Boeing also will sharply cut its base of suppliers. Most important, now that a new $1 billion automation system is finally kicking in, Boeing says it will cut the time it takes to build each aircraft by 10%. Says Chief Executive Philip M. Condit: "Pure and simple, the biggest part of [increasing profits] will be [cutting] the number of hours it takes to build each airplane."
So far, the efficiency push is paying off. Boeing dazzled Wall Street on July 15, turning in second-quarter numbers far better than analysts expected. Profits rose 172% over the same quarter last year, to $701 million, mostly from improvements in commercial aircraft. Boeing's stock price of 46 is far from its mid-'97 high of 60, but up 38% from last April. "Whether it's the fear of God or the fear of Wall Street, they've got the message," says Jon Kutler, president of Quarterdeck Investment Partners Inc., an investment advisory firm.
But some investors and analysts remain wary, and it's easy to see why. Two years ago, Boeing launched a market-share war with Airbus Industrie, just as it was trying to junk old equipment and modernize production. Boeing's factories became snarled as new planes stacked up. The resulting $900 million write-off led to a $186 million net loss in 1997. While it earned $1.1 billion on sales of $56.1 billion in 1998, most of that came from military work. Boeing's commercial side lost $246 million. Management's overly optimistic promises about fixes compounded its credibility problem.
NO SMALL SAVINGS. To right things, executives are putting every plane they make under a microscope. Analysts figure that to double operating margins, Boeing must cut about 7% from the cost of the planes it makes next year. That averages to $4 million per plane. Boeing execs say they can get big savings from incremental improvements. Designing parts digitally, rather than on paper, cuts the custom reshaping that must be done on the assembly line. No savings are too small. In McDonnell Douglas' once-bloated C-17 military cargo plane program, workers found that pre-applying sealant on the 1.4 million pins and rivets used in each plane would speed insertion and cut assembly costs by nearly 1%. Now, commercial planes get the same treatment.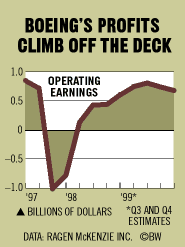 The production slowdown will help save money. Boeing will cut 13,000 of its 31,000 suppliers over the next four years, mostly smaller companies that duplicate equipment. As McDonnell Douglas planes are phased out and orders slow, Boeing will shut down 27 million square feet of production line by 2003.
Boeing is going to need all the financial wiggle room it can get. Contract talks with the International Association of Machinists could lead to a strike this fall unless Boeing can find a way to give workers a sense of job security. And the competition with Airbus grows ever fiercer, as seen in long-time Boeing customer China Airlines' decision to split a big jet order, giving $3.8 billion to Boeing and $1.8 billion to Airbus. But if Boeing can learn its efficiency lessons fast enough, it may yet convince Wall Street this turnaround is for real.