"There Is No One To Hire"
Employers have scraped the barrel's bottom. Now what?
Janin Friend
No one talks about the discouraged worker anymore, those job hunters who simply gave up in past recessions because there was no work to be found. Now, it's the discouraged employer. Small businesses are giving up trying to find qualified workers and scaling back on hiring plans. "Anyone who is any good is already working, and I am convinced we would be getting the dregs," says Charles E. Mott, president of Innovative Vacuum Services Inc., a company in Edmonds, Wash., that has decided to grow without increasing its staff of 32.
Attitudes like that are probably skewing surveys that show small-business hiring plans have declined, even as the nation's runaway economic boom is growing stronger. A Dun & Bradstreet Corp. survey conducted in February, for instance, found 29% anticipate adding employees this year, down from 35% in 1998. More recently, the June survey for the National Federation of Independent Business shows a net 16% of small companies plan to add staff in the next quarter, down four points from November's all-time high. And yet, a record 30% reported unfilled openings this year.
What's behind this dichotomy? Perhaps entrepreneurs like Mott are simply giving up on finding new staff. "It's not weak demand," explains William C. Dunkleberg, the NIFB's chief economist. "There is no one to hire." To be sure, some entrepreneurs are holding off on hiring in anticipation of a slowdown. But there's another, more subtle trend: Many companies have revamped or automated to boost productivity and thus avoid the problem of finding qualified workers.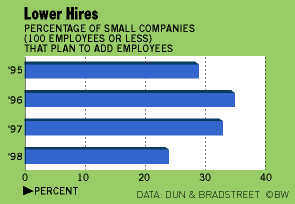 "It's a nightmare," says David L. Birch, president of Cognetics Inc., a Cambridge (Mass.) database company. "We have changed our whole company to deal with the labor problems." Unable to expand the 10-person staff, he has eliminated smaller accounts and automated more office functions. Still, he plans to snap up a few employees when the labor market inevitably loosens. "I can't wait," he says.
He may not have to wait long. Small businesses might find a slightly looser labor market in the coming months if the Fed succeeds in slowing the economy. Indeed, nationwide job creation has fallen from a monthly average of 240,000 in 1998, to 200,000 for the first six months of 1999, says Mark M. Zandi, chief economist for RFA, a consulting firm in West Chester, Pa. Sounds encouraging--so long as the trend doesn't reverse entirely.
Learn more about dealing with labor shortages. Click Online Extras at frontier.businessweek.com