New Ammo In The Cancer War
By
NeoPharm (NEO), a biopharmaceutical company focusing on products to fight various forms of cancer, is one small-cap stock that has thrived. The stock has run up from 2 a share in mid-August of 1998 to as high as 21 on Apr. 4, before easing back to 15 3/4 on Aug. 3. Dave Talbot, managing partner at Health/Vest Advisors, started accumulating shares at 4.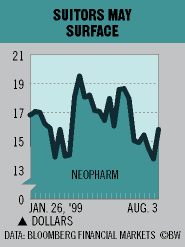 "Our 12-month target was 30, but with the recent surge in takeovers in the drug industry, we wouldn't be surprised to see NeoPharm acquired for a minimum of 50 a share," argues Talbot. The most likely suitors, he says, are Bristol-Myers Squibb and Pharmacia & Upjohn. The latter has acquired a 5.4% stake in NeoPharm, which in February signed a licensing agreement with Pharmacia & Upjohn to develop and commercialize NeoPharm's lead products, LEP and LED, which are liposomal encapsulations of two common off-patent cancer drugs known as Doxorubicin and Taxol. NeoPharm's LEP and LED reduce toxic side effects, enabling patients to tolerate higher doses.
NeoPharm's products, he says, could compete with Taxol. Talbot suspects Pharmacia will also be interested in buying NeoPharm. Is it for sale? CEO James Hussey says a lot will depend on the price. "I haven't gotten any offers," he adds.