One date investors in Aspect Development (ASDV) won't forget is Apr. 5: The stock plunged 65%--from 22 13/32 to 7 15/16. Aspect, which provides manufacturers with a virtual catalog of millions of components from suppliers worldwide, had warned that first-quarter earnings would be lower than expected. The stock has since bounced back, and there's evidence of a turnaround in Aspect's business. The stock reached 23 on July 7; it closed at 18 3/8 on July 27.
Some pros believe Aspect will catch fire in the next few days: It is expected to announce a remake of itself into a Web-based operator. Specifically, Aspect will unveil a series of online initiatives to give customers Internet access to its database of information about parts and where to get them, and to its proprietary software that helps manufacturers search the database and also helps manage their inventories.
One additional service: Aspect will facilitate--through a new Internet portal, AspectOnline--customer purchase of a wide range of products. Already, engineers at Motorola's computer group rely on AspectOnline, says Aspect Chairman and CEO Romesh Wadhwani. "We can put all the information on our database up on the Web where our customers can access it and get the very latest on upgrades and changes," he adds. The goal, he says, is to bring even greater savings to Aspect's customers in obtaining parts, which represent some 70% of the overall cost of a product.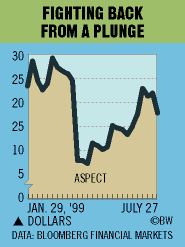 AspectOnline will more than quadruple the size of the potential market Aspect can service, figures Wadhwani. Lisa Williams, senior analyst at technology researcher Yankee Group, says she is "impressed and optimistic" about Aspect's foray into business-to-business E-commerce. "It's the right move for Aspect, which is helping solve the difficult problem of directly sourcing goods," says Williams. Andrew Lanyi of Lanyi Research at CIBC World Markets, who increased his stake in Aspect to one million shares during the April slump, is convinced the stock will hit 100 in three years.
On Aug. 2, Wadhwani is scheduled to reveal to analysts details of Aspect's new Internet business strategies.