Why It's Not A Blockbuster Ipo
The company is in better shape, but prospects may be dim
Stephanie Anderson Forest
At another time, an initial public offering of Blockbuster Inc. shares might be a big event. After all, the No. 1 video-rental chain has diligently worked its way through an array of problems and turned itself from a profit drain into a profit spinner for parent Viacom Inc. In the second quarter, Blockbuster's revenue jumped 17%, to $1 billion, while cash flow was firmly in the black at $105 million, compared with a loss of $359 million a year earlier. Furthermore, the 6,658-unit chain boosted its share of the home-video retail market to 31% in the June quarter, from 26% at the end of 1998.
So why is Viacom scaling back its ambitions for the Blockbuster issue as it launches the twice-delayed IPO? Blame it in part on the Internet. Spectacular returns from dozens of dot.com IPOs have made it harder for conventional companies to grab attention. The Internet is also one of the technologies--following cable and satellites--that promise to deliver movies on demand to consumers. That could make the video-rental business all but obsolete in years to come. "There's always been this technological overhang, and that overhang is only getting bigger in people's minds," says Lehman Brothers Inc. analyst Larry C. Petrella. "Blockbuster is a company with good current performance, but a company that some fear will hit a wall soon."
On July 19, Viacom's underwriters, Salomon Smith Barney and Bear Stearns & Co., set out to sell Blockbuster to institutional investors. The offering, for 17.7% of the company, is expected to be priced at $16 to $18, valuing the company from $2.8 billion to $3.2 billion. That's about half the $5 billion to $6 billion Viacom was hoping to fetch four months ago and a fraction of the $8.4 billion it shelled out to acquire the company in 1994. "The valuation is a surprise," says Merrill Lynch & Co. analyst Jessica Reif Cohen. But, she surmises, "The purpose of it is to guarantee a successful [IPO] launch."
Certainly, Blockbuster is in better shape than it has been in years. After a series of failed strategies and three different CEOs, current Blockbuster boss John F. Antioco and his management team have the chain back on firm footing. The former Taco Bell Corp. chief who took charge in 1997, signed "revenue-sharing" deals with major Hollywood studios that slashed the price Blockbuster paid for tapes from $65-$80 apiece to $3-$8. In return, the chain gave the studios about 40% of the rental fees it received from customers. On top of that, Antioco has spent lavishly on marketing. Last year, advertising expenses were $181 million, up 30% over 1997. But the money brought results: "So far, he's made all the right moves," says Viacom investor Larry Haverty of State Street Research.
THE SEQUEL. But not all of Blockbuster's problems lend themselves to easy fixes. Viacom is unloading Blockbuster at a time when prospects for the video biz are dimming. So far this year, rentals across the U.S. are down 8.4%, according to Forecaster Alexander & Associates, an entertainment-industry consulting firm. That comes on top of a 2.6% drop in 1998. One reason: movie lovers are buying tapes instead of renting. Furthermore, analysts say the jury is still out on just what sort of financial boost the revenue-sharing deals will deliver long term. After adjusting Blockbuster's 1998 results for charges and accounting changes, it still posted an operating profit of only $65 million last year on sales of $3.9 billion.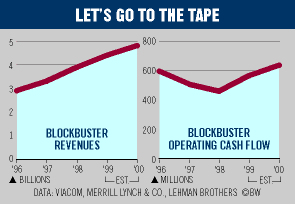 The gravest threat to Blockbuster comes from emerging technologies that will make video-on-demand possible over cable TV, satellite, and, ultimately, the Internet. The technology has been under development for decades, but it could finally become a reality in the next two to three years, some analysts say. By then, video on demand could put a noticeable dent in Blockbuster's bottom line. But if Viacom has its way, it will have nothing to do with the video rental business by then: It plans to spin off the rest of Blockbuster in a sequel offering later this year.