U.S.: These Growth Figures Won't Set Off Any Alarms At The Fed
A slower pace of GDP should help to postpone another rate hike
By
It's time to take another look at the economy's speedometer. The Commerce Dept. will give us the latest reading on economic growth when it reports on second-quarter gross domestic product on July 29. The data come at a crucial time: Given its June 30 rate hike, the Federal Reserve is becoming increasingly uncomfortable with the economy's 4% clip. So the financial markets will be looking for signs that growth is slowing down, which would reduce the need for further rate hikes.
Based on available monthly data, second-quarter GDP is likely to be market-friendly. The economy appears to have grown at an annual rate in the neighborhood of 3%. That pace would be down from 4.3% in the first quarter and 6% in the fourth quarter of last year. More important, it would be in line with the speed limit that Chairman Alan Greenspan has hinted is closer to the Fed's comfort zone.
The broad contours of last quarter's GDP should look something like this: Domestic demand, which excludes foreign trade, appears to have posted another strong performance, led by consumer spending and business investment in equipment. Another sharp widening in the trade deficit, however, offset a big chunk of that spending (chart), and housing appears to have slowed after a moderate winter boosted its first-quarter performance. Rounding out the picture, inventories appear to have grown a shade less than their first-quarter pace, resulting in a small drag.
BUT DESPITE THE LIKELY SLOWDOWN in the top-line GDP number, a closer look at the components of economic growth suggests that the economy still has plenty of momentum heading into the second half. First of all, consumer spending slowed from its breakneck 6.7% growth rate in the first quarter to a still-vibrant pace of about 4.5%, led by another good showing for big-ticket durable goods and solid growth in services. The annual growth trend in consumer outlays remains about 5%, and that is unlikely to change anytime soon, given strong gains in jobs and income, record additions to wealth, and easy credit.
The other big gainer last quarter was capital spending on business equipment, where growth appears to have accelerated sharply, probably to a pace about double the first quarter's 9.5% growth rate. The spurt was almost certainly fueled by a surge in high-tech spending, as businesses address needs related to the Year 2000 computer problem. Industrial production of information-processing and related equipment soared at an annual rate of 30% last quarter, the largest quarterly increase in 15 years (chart).
Companies are likely to "lock down" their high-tech budgets as yearend approaches, when they will sit back and assess the effectiveness of their past Y2K spending, along with any additional needs in the new year. This may result in a possible drag on capital outlays toward yearend. Some of that impact on overall economic growth, however, will be offset by some companies' efforts to build up inventories in case of supply disruptions caused by the Y2K problem. But the capital-spending outlook remains sound, mainly because companies are awash in cash, thanks in part to this year's improved profit performance.
SECOND-QUARTER GDP will not look as strong as the vibrancy in consumer and capital spending suggests, however, because a lot of that demand was satisfied by foreign producers, as the May trade deficit clearly showed. The trade gap, including both goods and services, hit a record $21.3 billion in May, up sharply from $18.6 billion in April. May exports fell by $619 million, while imports jumped $2.1 billion, the largest increase in more than a year.
Depending on what the Commerce Dept. assumes for June data, which will be unavailable in time for the GDP report, the GDP measure of the deficit appears to have widened from $303.6 billion in the first quarter to about $340 billion last quarter. That's enough by itself to subtract some two percentage points from GDP growth. While imports continue to grow broadly, demand for foreign-made capital goods has been accelerating this year, offering more evidence of Y2K-related spending.
The import surge is overshadowing some good news on the trade front: Export growth is starting to pick up, as growth in the rest of the world begins to strengthen. Prior to the Asian meltdown in mid-1997, inflation-adjusted exports of goods were growing at 27% annually, but by mid-1998, foreign shipments were down 3.2% from their year-earlier level. Pickups in demand from both Asia and Europe have helped bring about a turnaround. In May, exports were up 8.7% from a year ago. As a result, factory output in the second quarter posted its strongest increase in more than a year, adjusted for last year's strike at General Motors Corp.
ANOTHER SMALLER DRAG on second-quarter growth was construction. Both business construction and homebuilding appear to have declined slightly. That weakness, however, mainly reflects a payback for the weather-related surge in building in the first quarter, when the unusually warm winter exaggerated the strength in many of the figures. Residential construction jumped 15.4% in the first quarter, reflecting big gains in housing starts earlier in the year.
Homebuilding is not really as weak as the GDP data will portray, although construction activity does appear to be topping out. Housing starts continued their volatile monthly pattern so far this year, as June starts dropped 5.6%, reversing a similar-size rise in May. Through the ups and downs, starts in the first half of 1999 are running slightly above their average in the second half of 1998.
Although peaking, housing activity remains at a high level. The homebuilders' index of market conditions, including current and expected sales and buyer traffic through model homes, dipped to 74% in July, down from 77% in June. The index gauges the breadth of improvement in conditions, based on a survey by the National Association of Home Builders. The July reading was close to the average level in the first half of the year and only slightly below the record hit in the fourth quarter of last year.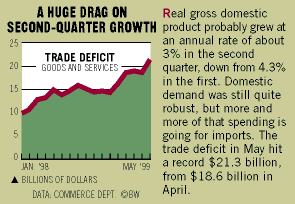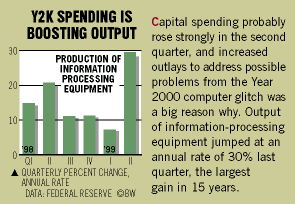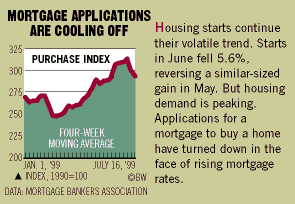 A full percentage point increase in fixed mortgage rates in recent weeks is sure to curtail demand in coming months. Already the trend in mortgage applications to buy a home has turned down (chart). Still, strong job markets and wealth gains should keep homebuilding from falling off sharply.
Of course, if the Fed feels the need to lift interest rates again, housing will be one of the first sectors to suffer. The second-quarter GDP, however, is likely to look tame enough to allow the Fed time to sit back and see how the economy develops in the second half, before it feels any urgency for another rate hike.