This Reinsurer Is Ripe For Reassessment
by
Insurance is heating up--and it's where value investors will find some of their biggest winners. So argues Ed Walczak, who runs the Vontobel U.S. Value Fund, whose assets are 50% invested in insurance stocks. "Consolidation is raging in the industry," he says. He makes clear he doesn't pick stocks on the basis of their buyout potential. "We pick each stock on its merits."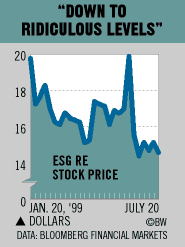 One that he believes has been "driven down to ridiculous levels" is ESG Re (ESREF), which provides medical, personal accident, credit life, and disability and special risk reinsurance to insurers worldwide. The stock is down 26% so far this year, to 14 a share. At that price, Walczak figures ESG is selling way below its book value of 18, and at a mere 7.4 times estimated 2000 earnings of $1.90 a share. So ESG, he notes, has been buying back shares.
One more thing Walczak likes about ESG: Insiders, led by Chairman John Head III and CEO Wolfgang Wand, have been buying shares on the open market. Head owns 1.8 million shares, or 13% of the stock. Wand, who purchased 5,000 shares at more than 15 each in June, owns some 2.6% of the stock. Walczak, who figures that ESG is worth north of 27 a share, has been adding to Vontobel's stake of about 6%.
Before it's here, it's on the Bloomberg Terminal.
LEARN MORE