This Economy Has Fuel Injection
A tank full of corporate cash could keep the expansion going
Kathleen Madigan
This late in a business cycle, it should be time for cost pressures to increase, productivity gains to slow, and profits to evaporate. Certainly, that's the traditional squeeze play investors seem to be bracing for in the second half of this year.
But there's another economic axiom to keep in mind: Cash is king. And U.S. corporations, large and small, are awash in the stuff. After the stunning profits of the second quarter, they're carrying a record $851 billion in retained earnings on their books. And depending on how Corporate America spends this windfall, the nine-year-old expansion could keep going a while longer.
The key will be whether companies keep using their cash to invest in new equipment that pumps up productivity and in deals that promote efficiency. If so, Wall Street can look forward to more record earnings and a continuation of low inflation. But if they squander the cash on ill-advised acquisitions, or if they get lax in controlling costs, profits could tumble. "Low inflation gives businesses a big incentive to invest in productivity-enhancing machinery, since cost-cutting, not price increases, is the way to boost profits," says Prudential Securities Chief Economist Richard D. Rippe.
SPEED BUMP? The question is: Will companies do the right thing? They will be under tremendous pressure from all sides. First, the current consensus view among economists is that gross domestic product growth will slow to around 3.1% in the second half, down from a projected 4% in the first half. That slowdown will inevitably put pressure on revenues and cause some companies to trim expansion plans. In addition, the possibility exists that the Federal Reserve could hike short-term rates one more time to slow growth even further. In such an environment, managements might be lured into deals that simply pump up the revenue volume.
The other pressure on earnings comes on the cost side, where tight labor markets threaten to ignite inflation. Lately, wage increases have been under control, despite 4.3% unemployment, but certain types of workers can command hefty salaries. Overall, however, companies have not let up in the effort to cut costs through restructuring and downsizing. Despite the sizzling economy, layoff announcements are hitting record levels.
The key gauge to monitor, however, is capital spending. "This is where we get the technological advances and productivity increases that bring only good to the economy," says Rippe. Equipment spending triggers a virtuous cycle: New machinery boosts productivity and lowers labor costs, generating more profits that are then spent on even more machinery. Business equipment outlays grew strongly in the second quarter on top of a 9.5% annualized gain in the first. Some 55% of that spending is going to high tech. A chunk of that is devoted to heading off Y2K problems, but most is targeted for new systems designed to raise efficiency or drum up sales.
That certainly is the game plan at RPM Inc., a holding company with operations that include the maker of Rust-Oleum and Day-Glo paints. Over the past two years, the $2 billion Medina (Ohio) company has spent $20 million on information technology. The most recent investment was $2.5 million for an Internet system that allows industrial customers and retailers to order RPM products on the Web. RPM Executive Vice-President Frank C. Sullivan recognizes the profit potential of the company's $40 million cash balance. "All of this cash-based investing just leads to more growth and cash," he says.
Ask Wal-Mart Stores Inc. Convinced that consumer demand will remain strong, the retail giant has upped its capital budget to $4.9 billion from $4.5 billion in 1998. It's building six new food distribution centers and four for handling general merchandise. The food centers support Wal-Mart's rapid expansion into supercenters offering both groceries and general merchandise. The goal is to have each supercenter--150 of which will be built this year in the U.S.--relatively close to a distribution center to speed up the replenishment of merchandise and reduce out-of-stock goods. Such investments are one reason why Wal-Mart's sales and earnings are booming. Revenues are expected to climb about 14% this year, to $157 billion, with profits up 21%, to $5.3 billion.
Companies rolling in dough are also doing deals. Lots of them. Microsoft is using its stash to buy into the telecommunications and cable marketplace. The software company invested $5 billion in AT&T and spent an additional $600 million on Nextel Communications Inc., a wireless communications outfit. The company has already spent roughly $7 billion on such investments this year, but still has $22 billion on hand.
General Motors Corp. has also been on a shopping spree of cash and cash-and-stock deals. Its Hughes Electronics Corp. subsidiary bought Primestar and United States Satellite Broadcasting Co., while GM's finance arm, General Motors Acceptance Corp., is purchasing Bank of New York's asset-based lending and factoring operations. Analysts are applauding these buys, which will help GM smooth earnings when the auto boom slows. J. Michael Losh, GM's chief financial officer, notes that GM's $14.7 billion cash cushion lets the company "remain nimble and quick" to grab new opportunities.
SLIM DIVIDENDS. Stock buybacks are another option for cash-rich companies. GM, Microsoft, and Wal-Mart have all repurchased shares over the past year. The reason for the buybacks? By reducing the supply of shares on the market, a company can increase its stock price. Corporations are also motivated to repurchase their shares so they can have enough on hand for stock-swap deals or to cover stock-options plans.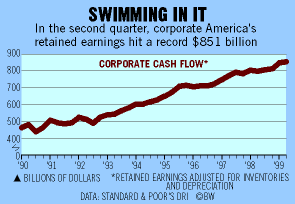 Investors hoping for fatter dividends from all this cash may be disappointed, though. With so many other uses for money, few companies have upped their payouts. Standard & Poor's Corp., a unit of The McGraw-Hill Companies, tracks dividend announcements in its weekly newsletter, The Outlook. For the second quarter, 407 companies announced dividend hikes, but that number was down 23% from a year earlier. Managing Editor Joseph Tigue says that today's shareholders are happy with their soaring stock prices, so they aren't pressuring companies to lift payouts.
Further gains in stock prices seem assured if companies continue to invest their dollars wisely. And as long as the roaring tides of money flow into a sea of greater prosperity, Corporate America is sure to float along and enjoy the ride.
Before it's here, it's on the Bloomberg Terminal.
LEARN MORE