Small Caps: So Who Needs The Street, Anyway?
Tired of neglect, small caps like St. John are going private
Marcia Vickers
Although affluent women across the U.S. flock to St. John boutiques to buy $1,500 Australian wool suits, the high-fashion company's stock has been out of fashion for some time. So on July 6, St. John Knits Inc., fed up with its lowly valuations, closed up shop on the New York Stock Exchange and went private. "We'll be able to do what we think is best for the company as opposed to what Wall Street might think," said Robert E. Gray, the Irvine (Calif.) company's chairman and CEO, when he announced the deal in February.
More small companies, weary of being Wall Street wallflowers, are going private. In the past year, 48 companies with market caps under $1 billion have announced they are going private, vs. only 12 three years ago. And in 1998, there were almost 800 small companies acquired in either mergers or buyouts, up from around 450 just two years earlier, according to U.S. Bancorp Piper Jaffray Inc. "Aside from Internet stocks, the small caps have been permanently hurt by a shift in investing to larger stocks," says Daniel J. Donoghue, a managing director at the firm. In fact, the stock of half of the 1,700 small companies that went public over the last decade sold for less than half of the initial offering price. And that's while the earnings of these companies grew over the last three years at an average annual rate of nearly 19%.
No wonder small stocks are cheap--trading on average at 17 times earnings, vs. 22 for large-cap stocks. That's why buyout firms are scooping up these companies, taking them private.
Small companies complain that they can't get Wall Street's attention. Indeed, companies in the $50 million, to $250 million market cap range have an average of 2.5 analysts covering their stocks, vs. 10 analysts for companies over $250 million, according to Piper Jaffray. To make matters worse, analysts who cover small caps typically are not the leaders in their field, and often have minimal impact on valuations. "Everyone's looking for high-growth technology issues," says Daniel O'Connell, CEO at Vestar Capital Partners, the firm that provided capital for St. John to go private.
St. John Knits makes classically styled women's clothing that is sold in stores such as Saks Fifth Avenue and Neiman Marcus and through its 17 boutiques located in places such as Palm Beach (Fla.) and New York's Fifth Avenue. The company delivered solid growth for the five years after going public in 1993, averaging 25% gains in revenues and 30% in earnings per share annually. That's twice the apparel industry's average on revenues and triple the average on earnings, according to analysts. Still, Wall Street wasn't sold. The stock, which posted a high of $53 5/8 in mid-1997, started falling in May of 1998, when the company missed earnings estimates for the first time since going public. The stock continued to drop as St. John missed estimates in subsequent quarters, going as low as $13 1/4 a share in October, 1998, wrapping up trading on July 6 of this year, at a buyout price of $30 a share.
The grueling pressure of meeting Wall Street's earnings expectations forced the company, which posted $282 million in sales last year, to grow too fast and make mistakes, according to Gray. One misstep was rushing out a cheaper, more youthful line in 1997 that used inferior wool and didn't appeal to the hipper demographic. Going private, he says, will help the company regain its footing. A top priority: slow St. John's growth rate from 25% per year to 10%, something Wall Street would no doubt frown upon. "We need to focus on doing what we do best: delivering the highest-quality merchandise and service," maintains Gray.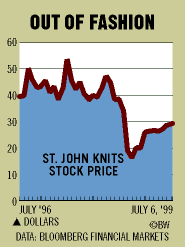 CHANGING GUARD. In the buyout, Vestar Capital owns 77% of the new St. John Knits International Inc. The Gray family, which founded and still runs the company, owns almost 16%. Public shareholders will hold the remaining 7%. "Many small companies, especially family-run businesses, don't want to be acquired by larger companies, but want to go private and retain control," says Donoghue.
Will small companies continue to seek safer harbors by going private? That depends on whether or not small-cap stocks continue to be pummeled. Most experts say that these stocks should stage a comeback soon--indeed, there may already be signs of a recovery. But if they are wrong, more companies like St. John will be going fashionably private.
Before it's here, it's on the Bloomberg Terminal.
LEARN MORE