Do Medicare And Managed Care Mix?
Insurers say no, but Washington is counting on it
John Carey
When George Farber signed up for a Medicare plan offered by Harvard Pilgrim Health Care two years ago, "everything sounded wonderful," he recalls. The plan's coverage ranged from prescriptions to eyeglasses for the 72-year-old retired furniture-store worker and his wife, Eleanor.
But Farber no longer extols Harvard Pilgrim's virtues. First, the company limited the amount it would pay for drugs to $800 per person annually. Then, a few months ago, it notified the Colrain (Mass.) couple that at year-end they, along with thousands of other local seniors, would be dropped. Harvard Pilgrim did so "reluctantly," says a spokesman. "It was financially untenable."
The Farbers have been caught in the middle, as Washington and health insurers wrestle with how to rein in Medicare spending. Insurers say they can't afford to provide service under Medicare--and are lobbying fiercely for more funds. Yet Washington is counting on managed care to trim the soaring costs of Medicare, and millions of seniors--about 16% of the Medicare population--have switched to HMOs. President Clinton's Medicare reform proposal and a pending congressional plan both presume a switch from fee-for-service Medicare.
So the fact that 407,000 elderly Americans were dropped by Medicare HMOs last year looks like a bad sign. And on July 15, the Health Care Financing Administration (HCFA), which administers Medicare, announced that 327,000 more would be cut loose this year. The cuts are "a wake-up call that this program is in crisis," says Karen M. Ignagni, president and CEO of the American Association of Health Plans.
Insurers that jumped into the Medicare HMO business trace the problems to the 1997 Balanced Budget Act. As part of that legislation, on Jan. 1, 2000, HCFA starts cutting the per capita reimbursement to HMOs whose enrollees are relatively healthy and cheaper to treat. Among its other effects, the act holds annual reimbursement increases in many counties to around 2% per year. The act, says Aetna U.S. Healthcare Inc. Vice-President Dr. Sandra Harmon-Weiss, unfairly keeps reimbursement rate increases below the rate of medical inflation. "Plans are looking at the next three to four years and saying, `We can't afford to stay in business,"' says Dr. Donald Young, medical director of the Health Insurance Assn. This year, 41 plans intend to withdraw from Medicare.
SCARE TACTICS. Government and academic experts counter that the industry's claims of an HMO crisis are overblown. "These scare tactics are unfounded," says HCFA Deputy Administrator Michael Hash. He points out that despite the losses, insurers continue to open Medicare HMOs and seniors still join. Since January, 39 new plans and nearly 200,000 elderly have enrolled.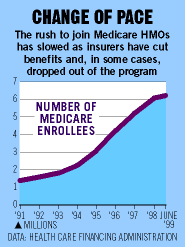 According to the General Accounting Office, the 1997 provisions will merely reduce overpayments--not make Medicare HMO plans unprofitable. HMOs tended to attract the healthier elderly, whose annual bills are only a fraction of the sickest 5% of seniors. Yet HMOs have been paid per head, at a rate about 95% of the average spent on fee-for-service patients, who tend to be sicker. "There is an absolute consensus that HMOs are overpaid," says Jonathan B. Oberlander, health policy expert at the University of North Carolina. The amount: about $2 billion per year, according to HCFA.
So will HMOs have a role in Medicare? Clearly, managed care can offer both better and less expensive care to the healthy elderly, partly because of its greater reliance on preventive medicine and early diagnosis. But studies show that the chronically ill may fare worse under HMOs. And the cost of their care is not lower. So when it comes to the trillion-dollar question of whether managed care can curb Medicare costs, "I wouldn't bet on it," says Oberlander. That may mean that seniors tomorrow will probably pay more or get less.