Can Steve Jobs Keep His Mojo Working?
First the hot iMac, now the iBook portable. Then what?
by
Can interim chief executive Steven P. Jobs provide a permanent reprieve for Apple Computer Inc.? Jobs has brought Apple back from the verge of oblivion two years ago, racking up seven quarters of profits and restoring Apple's image with the innovative iMac. Nearly two million units have been sold since iMac was rolled out last year, doubling Apple's market share. Apple stock has more than doubled to 53 since Jobs returned.
Now, it's time for his next act. On July 21, before an adoring crowd at the Macworld Expo in New York, Jobs unveiled a long-awaited notebook version of the iMac, aimed at consumers and students. The two-toned iBook--priced aggressively at $1,599 and available in either blueberry-and-white or tangerine-and-white plastic--sports a speedy 300 MHz G3 chip, a crisp 12-inch color screen, and an optional wireless connection from the computer to the phone jack. "It's a rocket ship," Jobs brags. Slated to go on sale in September, the iBook fills in the last piece of a product road map Jobs outlined in late 1997. Its success could restore Apple's luster in portable computers--as the iMac did on the desktop.
But is the iBook enough to sustain Apple's momentum? Most analysts think so--at least for now. Admittedly, like all computer makers, Apple is operating in a pricing environment so brutal that some PCs are now offered for free in conjunction with multiyear Internet service contracts. While $1,200 iMac seems a bit dear today, Jobs has priced the iBook very competitively, undercutting all major rivals.
Michael K. Kwatinetz of CS First Boston figures Apple's earnings will climb 14% in the December quarter, to $152 million, partly from anticipated strong sales of the iBook. Assuming no production snafus, Apple could sell 300,000 iBooks before yearend. In Apple's next fiscal year, ending Sept. 30, 2000, Kwatinetz predicts revenue will climb 18%, to $7.6 billion. The iBook could contribute $800 million of that. Says analyst Alex Mou of BancBoston Robertson Stephens: "It will attract a lot of new customers."
More important, it could be a new vehicle for rebuilding market share. Even after Apple's turnaround, the company still sells fewer than 4% of the world's PCs, says researcher Dataquest Inc. What's more, the opportunity in portables is particularly promising: After all, in the early 1990s, Apple PowerBooks were top sellers. But Apple had quality and manufacturing problems and ceded leadership in the category to IBM and Dell. Its share plunged to just 2.3% by 1997.
CREATING DEMAND. Under Jobs, Apple has regained ground in traditional desktop strongholds such as graphic arts and education and rolled out pricey new PowerBooks aimed at professionals. But the biggest growth opportunity for PCs today is among consumers--especially novices. The iMac has already attracted many such customers: Apple says one-third of iMac buyers are first-time PC owners. Now, with the iBook, Apple is trying to do the same for portables--where sales are growing 33% faster than sales of desktop PCs.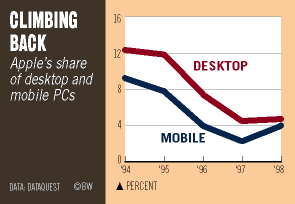 It'll take some savvy marketing, though: Of the 8.4 million portables expected to be sold this year in the U.S., says researcher International Data Corp., 90% will be bought by corporations and only 10% by consumers. But the cute, easy-to-use iBook could help create a consumer market--despite the grousing that this laptop at 6.7 pounds is a bit heavier than Apple-watchers had hoped for. At the University of Pennsylvania, for instance, information systems manager Donald J. Montabana held a spot open for the iBook in the back-to-school catalog he mails to students. Although it's shipping three months later than scheduled, Montabana expects "it will do quite well on campus." But even if the iBook is a smash, Jobs still has to pull a few more rabbits out of Apple's hat to keep up Apple's momentum.
Before it's here, it's on the Bloomberg Terminal.
LEARN MORE