Although biotech stocks show signs of rebounding, they're still no picnic, warns Stuart Weisbrod. "I'm short a lot of them," says Weisbrod, who was a star drug analyst at Merrill Lynch and Prudential Securities before he formed Merlin BioMed Asset Management. But he still believes that the best investment plays are in the "orphan" and undiscovered biotechs.
The best catches, he says, can be snared among biotechs with market caps of about $100 million, with promising product pipelines and ample cash. Among Weisbrod's picks: Aronex Pharmaceuticals (ARNX) and BioCryst Pharmaceuticals (BRCX).
Aronex is off everyone's radar screen and has no backing on Wall Street, notes Weisbrod. Yet he expects Aronex to introduce one product in each of the next four years, starting in 2000. Aronex has a marketing pact with Abbott Laboratories for Nyotran, a treatment for systemic fungal infections. Aronex has filed for FDA approval for Altragen, a treatment for a rare form of leukemia. Two other products are in clinical trials: Platar, a platinum compound for lung cancer, and Annamycine, an anthracycline for breast cancer.
At BioCryst, Weisbrod thinks its product for influenza is a "sleeper" that will drive earnings by 2001. Set to be in Phase III clinical tests this year, it's being co-developed with Johnson & Johnson. BioCryst is also developing products to treat cancer, immune disorders, and AIDS.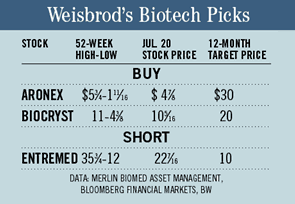 His top short is EntreMed (ENMD). The stock shot from 12 to 86 in one day, after The New York Times reported the company had developed anticancer (anti-angiogenesis) products that stop blood vessels from growing into tumors. The stock has since fallen to 22. Weisbrod, who thinks it could tumble below 10, says EntreMed's product, yet to be tested in humans, is far from unique, with some 12 other angiogenesis inhibitors already in clinical trials. Most are easier to produce, use a lower dose, and are more specific than EntreMed's, he says. Among others working on such agents: Genentech, Bayer, and Boston Life Sciences.
Before it's here, it's on the Bloomberg Terminal.
LEARN MORE