Bell South: Is Standing Firm Enough?
To survive, the Baby Bell may have to expand nationally
by
It's mid-July, and BellSouth Corp. CEO F. Duane Ackerman is riding shotgun in one of the local phone company's service trucks as it prowls Atlanta. The trip is part of Ackerman's twice-monthly visits into the field to take the pulse of the company by talking to employees and customers. This time, after the truck's driver ducks out to take care of a technical problem, a motorist blocked behind the double-parked vehicle begins cursing. Ackerman doesn't miss a beat. He hops behind the wheel and moves the truck. "We don't want to get too far away from what's happening with the customers and our people," Ackerman says as he steps out of the truck.
CEO since 1997, Duane Ackerman is used to being in the driver's seat. But he will need to steer carefully to avoid being passed by new competitors as the telecommunications industry moves into overdrive. Just this week, Qwest Communications International Inc. agreed to buy Denver-based US West Communications Inc. for $35 billion. And that's in the wake of Bell Atlantic Corp.'s merger with Nynex Corp. and SBC Communications Inc.'s takeover of Pacific Telesis Group and its pending deal with Ameritech Corp.
Suddenly, BellSouth is the only one of AT&T's seven offspring still in its original form. But Ackerman may have a difficult time remaining independent unless he takes bold steps to broaden BellSouth's reach and shore up its home turf. And soon. Analysts say that BellSouth has a window of maybe two years to bulk up before competitors digest their current acquisitions and come hunting. Possible BellSouth targets: Qwest, Sprint, or Global Crossing. Otherwise, says Yankee Group Research Inc. analyst Eileen Eastman, "they're going to be the target of someone."
Is Ackerman worried? "The answer is no," he says emphatically. He's already taken a 10% stake in Qwest to smooth an eventual move into long distance. And he says he's keeping an eye on opportunities to expand into local markets outside of the Southeast. He also argues that BellSouth's domestic wireless and international operations will allow the company to grow faster than rivals. Says Ackerman, a Bell System lifer who began his career 35 years ago as a maintenance supervisor in Orlando: "Development can be more than M&A."
FATTER RIVALS. Make no mistake--BellSouth may be a Baby Bell, but it's no small fry. The $23 billion company offers local service in nine fast-growing states in the Southeast, runs networks in more than a dozen foreign countries, and enjoys a market cap near $90 billion.
That's today. Once SBC digests Ameritech and Bell Atlantic completes its takeover of local operator GTE Corp., each should have a market cap nearly twice that of BellSouth. Either might covet the Atlanta Bell's fast-growing Southeastern franchise. Or MCI WorldCom Inc. could have an appetite for BellSouth once the Federal Communications Commission allows the Baby Bells to provide long-distance service, perhaps as soon as next year. Then there are European carriers France Telecom or Deutsche Telekom, which are looking for a foothold in the U.S.
Ackerman, though, seems to revel in his wallflower status. He has forged an independent strategy that focuses on providing a broad range of high-quality services in BellSouth's home region, while expanding into nearly all of Latin America. And so far, going it alone has worked well. On July 20, the company reported second-quarter earnings were up 20%, to $980 million, while revenue grew 8.5%, to $6.1 billion.
Still, some analysts say BellSouth's strategy is too cautious. Without the ability to provide service in key U.S. markets outside of its home region, BellSouth could lose top corporate customers, who increasingly want one telecommunications megacarrier.
BellSouth had better watch its back at home, too. This spring, AT&T agreed to plunk down $110 billion for cable operators Tele-Communications Inc. and MediaOne Group, which gives old Ma Bell a new conduit for providing everything from local voice to Internet to long distance to cable services. Meanwhile, MCI has invested heavily in fiber-optic and wireless networks serving businesses to link them directly to its long-distance network.
OTHER OPTIONS. The headaches are not unique to BellSouth. But without the scale of its erstwhile Bell brethren, the company will have a tougher time competing with the interlopers. BellSouth, for example, generated $10.2 billion in cash flow last year, vs. $21.7 billion for Bell Atlantic and GTE combined, according to Bear, Stearns & Co. That means Bell Atlantic gets more money for new technology and network infrastructure. "The regional fortress strategy has worked very well" for BellSouth, says James A. Attwood, GTE's strategic development chief. "But I think the market is speaking--you need to be national."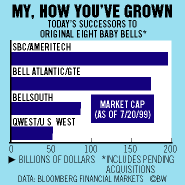 So far, Ackerman hasn't confronted the competitive threat head on. In May, he bought the Qwest stake. But after Qwest's bold bid for U S West, an eventual takeover looks less certain. Still, Ackerman does have other options. He might consider an eventual buyout of Sprint, which would bring long distance plus a nationwide wireless network and some local operations. Other potential prey could include Global Crossing Ltd., the loser in the bidding war for U S West, or smaller long-distance carriers such as Intermedia Communications. Ackerman could also buy into a player offering local telecommunications outside his area.
Ackerman's mum on all the options, but he won't rule out anything. He says he's just taking time to sort through all the possibilities. With nimble driving, he may steer BellSouth to greatness. If not, there's always the service truck.
Before it's here, it's on the Bloomberg Terminal.
LEARN MORE